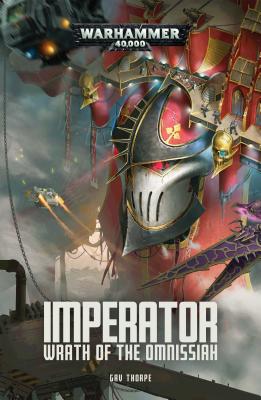 Imperator (Paperback)
Wrath of the Omnissiah (Warhammer 40,000)
Games Workshop, 9781784967789, 368pp.
Publication Date: October 9, 2018
* Individual store prices may vary.
Description
The Casus Belli, an Imperator Titan that has defended the Imperium for ten millennia, marches to war at the head of an army of Adeptus Mechanicus – but will treachery end the god-machine's long legacy of glory?

Holy warbringer of the Legio Metalica, the Imperator Titan Casus Belli has routed armies and levelled cities over ten thousand years of service in the name of the Machine-God. As war engulfs the Dark Imperium this mechanical god of battle arrives to destroy the renegade armies and tech-priests of Nicomedua. At the head of a battlegroup of Titans, Imperial Knights and skitarii, Casus Belli must defeat tainted war engines, Traitor Legionaries and armies of cultists. While apocalyptic battles rage across the planet, a no less deadly battle unfolds within the Titan itself, as Magos Exasus, leader of the Casus Belli's Tech-guard, must find and defeat the enemy within before their insidious plans come to fruition.
About the Author
Gav Thorpe is the author of the Horus Heresy novels Deliverance Lost, Angels of Caliban and Corax, as well as the novella The Lion, which formed part of the New York Times bestselling collection The Primarchs, and several audio dramas. He has written many novels for Warhammer 40,000, including Ashes of Prospero, Imperator: Wrath of the Omnissiah and the Rise of the Ynnari novels Ghost Warrior and Wild Rider. He also wrote the Path of the Eldar and Legacy of Caliban trilogies, and two volumes in The Beast Arises series. For Warhammer, Gav has penned the End Times novel The Curse of Khaine, the Warhammer Chronicles omnibus The Sundering, and much more besides. In 2017, Gav won the David Gemmell Legend Award for his Age of Sigmar novel Warbeast. He lives and works in Nottingham.