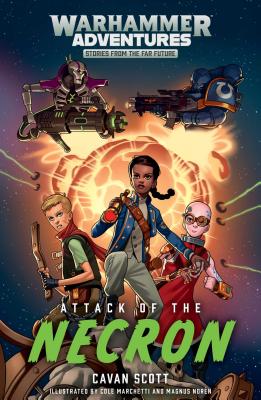 Warped Galaxies (Paperback)
Attack of the Necron
Warhammer Adventures, 9781784967802, 240pp.
Publication Date: February 19, 2019
Other Editions of This Title:
CD-Audio (2/19/2019)
* Individual store prices may vary.
Description
Brave champions and the forces of the Imperium battle alien beasts and mechanical tyrants accross the gulf of space.

On the hive world of Targian, Zelia Lor helps her mother search for ancient tech, digging up treasures of the past on the wind-blown plains. They are happy. They are safe. All that changes when the Necrons attack. Without warning, a host of robotic ships appear in the skies above Targian and rip the planet apart. Separated from her mother, Zelia must escape the doomed world, her only hope a scrambled transmission promising safety at a mysterious place known only as the Emperor's Seat. Launched in an escape pod, she crashes on an icy wasteland far, far from home. But Zelia is not alone. She is joined by a rag-tag group of survivors – the street-tough juve Talen, gadget-obsessed Martian boy Mekki and super-intelligent alien-ape, Fleapit.
About the Author
Cavan Scott has written the Space Marine Battles novella Plague Harvest, along with the Warhammer 40,000 short stories 'Doom Flight', 'Trophies', 'Sanctus Reach: Death Mask', 'Flayed' and 'Logan Grimnar: Defender of Honour'. He lives and works in Bristol.