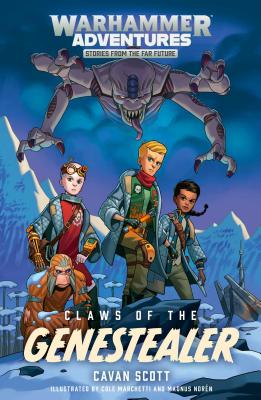 Claws of the Genestealer (Warhammer Adventures
Warped Galaxies #2)
Paperback

* Individual store prices may vary.
Description
The second book in the Warped Galaxies series. An exciting new series of sci-fi books for middle-grade reeaders from Black Library. Brave champions and the forces of the Imperium battle alien beasts and mechanical tyrants accross the gulf of space.

Having crash landed on a remote ice planet, Zelia Lor and her friends Talen, Mekki and the super-intelligent alien-ape Fleapit must do whatever they can to survive. A distress beacon offers some hope of rescue, but what else lurks in the ice and snow, watching them with hungry eyes…?


Warhammer Adventures, 9781784967819, 220pp.
Publication Date: May 14, 2019
About the Author
Cavan Scott is the author of the Space Marine Battles novella Plague Harvest, along with the Warhammer 40,000 short stories 'Doom Flight', 'Trophies', 'Sanctus Reach: Death Mask' 'Flayed' and 'Logan Grimnar: Defender of Honour'. He lives and works in Bristol.