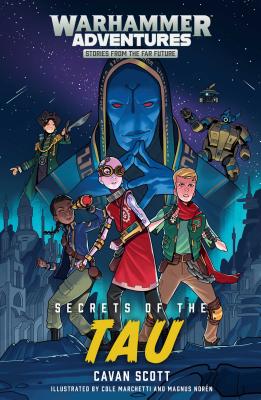 Secrets of the Tau (Warhammer Adventures (Paperback)
Warped Galaxies #3)
Warhammer Adventures, 9781784968397, 224pp.
Publication Date: September 3, 2019
* Individual store prices may vary.
Description
The third book in the Warped Galaxies series. An exciting new series of sci-fi books for middle-grade reeaders from Black Library. Brave champions and the forces of the Imperium battle alien beasts and mechanical tyrants accross the gulf of space.

Journeying to the bustling spaceport of Hinterland after being saved from certain death by a dubious Rogue Trader, Zelia, Talen and Mekki continue their quest to reach the Emperor's Seat. But much here is not what it seems. Alone in a strange place and surrounded by aliens, who can they really trust and what are the secrets of the Tau?
About the Author
Cavan Scott is the author of the Space Marine Battles novella Plague Harvest, along with the Warhammer 40,000 short stories 'Doom Flight', 'Trophies', 'Sanctus Reach: Death Mask' 'Flayed' and 'Logan Grimnar: Defender of Honour'. He lives and works in Bristol.