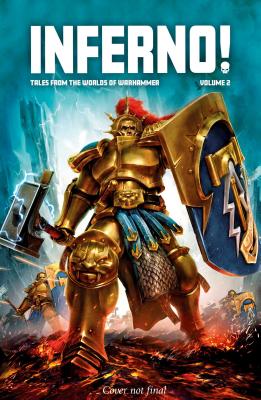 Inferno! #2 (Paperback)
Games Workshop, 9781784968526, 400pp.
Publication Date: January 8, 2019
* Individual store prices may vary.
Description
Next installment in the new anthology series, penned by debut and established authors,
Showcasing the best works from across Black Library's many universes.

The second volume of this anthology collection comprises more new short fiction from the worlds of Warhammer. Penned by debut and current Black Library authors, its tales range from the fighting pits in the realm of Ghur to the mists of Chamon, while in the brutal galaxy of the Dark Imperium, mysteries must be solved but that doesn't mean escaping the horrors unscathed.

In this volume, Guy Haley continues the story of the aelf wanderer, Prince Maesa, as he rides out a storm in the depths of Shyish. A skaven team attempt to carry out a daring heist in a tale of villainous betrayal, and an Imperial Guardsman must investigate an isolated town's secret if he and his men are to survive the night. These and many other stories are collected here for the first time.
About the Author
Guy Haley is the author of the Horus Heresy novels Titandeath, Wolfsbane and Pharos, the Primarchs novels Corax: Lord of Shadows, Perturabo: The Hammer of Olympia, and the Warhammer 40,000 novels Dark Imperium, Dark Imperium: Plague War, The Devastation of Baal, Dante, Baneblade, Shadowsword, Valedor and Death of Integrity. He has also written Throneworld and The Beheading for The Beast Arises series. His enthusiasm for all things greenskin has also led him to pen the eponymous Warhammer novel Skarsnik, as well as the End Times novel The Rise of the Horned Rat. He has also written stories set in the Age of Sigmar, included in War Storm, Ghal Maraz and Call of Archaon. He lives in Yorkshire with his wife and son.