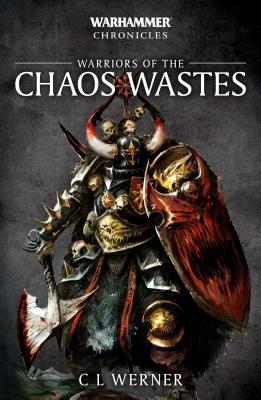 Warriors of the Chaos Wastes (Warhammer Chronicles)
Paperback

* Individual store prices may vary.
Description
Latest installment in the Warhammer Chronicles series. Focusing on the forces of Choas in the old world.

The Chaos Wastes is an unspeakable region of magic and madness. In this hellish tundra, the Dark Gods wrestle for supremacy and champions war in their name. Death comes for any who traverse these plains in swift and savage form. Yet there are those who dare brave the wastelands, burdened by their own dark purposes. Wulfrik the Wanderer, cursed by the Ruinous Powers, seeks a prize to appease the forces of Chaos; the Skulltaker, champion of Khorne, hungers for fresh blood; and the last warrior of a Norse tribe sets out to steal the treasure of a god. But in this monstrous arena, there are no winners. Dark forces plot, daemons feed, and even the landscape itself takes sides. This omnibus contains three novels by one of Black Library's popular authors, C L Werner: Wulfrik, Blood for the Blood God and Palace of the Plague Lord.

Games Workshop, 9781784968571, 960pp.
Publication Date: January 22, 2019
About the Author
Clint is one of Black Library's most beloved fantasy authors, and more recent fans will be anxious to lay their hands on his previously unavailable back list.
C L Werner's Black Library credits include the Age of Sigmar novel Overlords of the Iron Dragon and novella 'Scion of the Storm' in Hammers of Sigmar, the Warhammer novels novel Deathblade, Mathias Thulmann: Witch Hunter, Runefang and Brunner the Bounty Hunter, the Thanquol and Boneripper series and Time of Legends: The Black Plague series. For Warhammer 40,000 he has written the Space Marine Battles novel The Siege of Castellax. Currently living in the American south-west, he continues to write stories of mayhem and madness set in the Warhammer worlds.
or
Not Currently Available for Direct Purchase