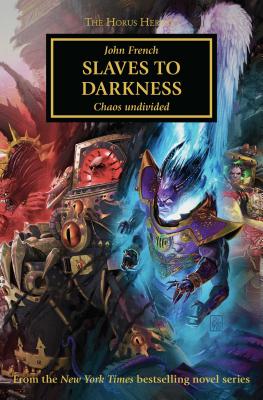 Slaves to Darkness (The Horus Heresy)
Paperback

* Individual store prices may vary.
Other Editions of This Title:
Paperback (2/4/2020)
Description
Book 51 of the mega selling Horus Heresy series. Featuring a host of popular Primarch characters.

After a long and gruelling conflict, the traitors at last close upon Terra. But time is dwindling for an attack. Both Guilliman and the Lion are returning with all haste, and their armies could turn the tide. The hosts of the Warmaster must unite, for only then can they attack the Throneworld itself. While Mortarion is sent on ahead as the fleet's vanguard, it falls to Lorgar and Perturabo to marshal Fulgrim and Angron, both now elevated to daemonhood and perhaps beyond even the will of the Warmaster to command. But Horus lies wounded and as the greatest battle the galaxy has ever know looms, it is up to Maloghurst to hold his fractious Legion together and to wrench Horus himself from the edge of oblivion.
Games Workshop, 9781784968595, 400pp.
Publication Date: February 5, 2019
About the Author
John French is the author of several Horus Heresy stories including the novels The Solar War, Praetorian of Dorn, Tallarn and Slaves to Darkness, the novella The Crimson Fist, and the audio dramas Dark Compliance, Templar and Warmaster. For Warhammer 40,000 he has written Resurrection, Incarnation and Divination for The Horusian Wars and three tie-in audio dramas – the Scribe award-winning Agent of the Throne: Blood and Lies, as well as Agent of the Throne: Truth and Dreams and Agent of the Throne: Ashes and Oaths. John has also written the Ahriman series and many short stories.
or
Not Currently Available for Direct Purchase