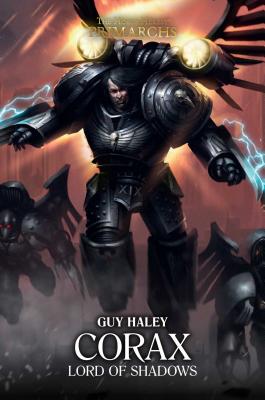 Corax Lord of Shadows
Lord of Shadows (The Horus Heresy: Primarchs #10)
Hardcover

* Individual store prices may vary.
Description
Book 10 of the succesful 'Horus Heresy Primarchs' Series. Focusses on Corax, the Primarch of the Raven Guard.

During the Great Crusade, it falls to the primarch Corax of the Raven Guard to humble the immense void-cities of the Carinae. Determined to bring these worlds into compliance, he unleashes the might of his Legion and a massive war host of the Imperial Army. But the lords of Carinae are well defended and without remorse.

At the height of the conflict, at the void-city of Zenith, a dread bio-weapon from an ancient time is unleashed. At once, the Imperial force is brought to its knees, as allies are turned against each other and the Raven Guard left to face almost insurmountable odds. As the campaign teeters on the brink of failure, Corax's desire for vengeance is severely tested against the need for a swift and certain resolution to the war.
Games Workshop, 9781784968731, 224pp.
Publication Date: February 19, 2019
About the Author
Guy Haley is the author of the Horus Heresy novels Wolfsbane and Pharos, the Primarchs novel Perturabo: The Hammer of Olympia and the Warhammer 40,000 novels Dark Imperium, The Devastation of Baal, Dante, Baneblade, Shadowsword, Valedor and Death of Integrity. He has also written Throneworld and The Beheading for The Beast Arises series. His enthusiasm for all things greenskin has also led him to pen the eponymous Warhammer novel Skarsnik, as well as the End Times novel The Rise of the Horned Rat. He has also written stories set in the Age of Sigmar, included in War Storm, Ghal Maraz and Call of Archaon. He lives in Yorkshire with his wife and son.