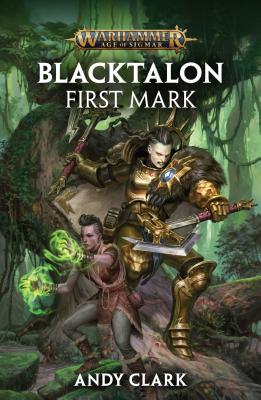 Blacktalon (Paperback)
First Mark (Warhammer: Age of Sigmar)
Games Workshop, 9781784969042, 400pp.
Publication Date: April 30, 2019
* Individual store prices may vary.
Description
As Knight-Zephyros Neave Blacktalon hunts a powerful Tzeentch sorcerer in the jungles of Hammerhal Aqsha, she suffers terrible visions that suggest her very spirit has been tainted…

In the perilous jungles just north of the great city of Hammerhal Aqsha, Chaos reigns. There a powerful Tzeenchian wizard grows in disciples and in might as his maledictions leech all that is good from the land. It is Neave Blacktalon, first of Sigmar's Knights Zephyros, who must vanquish this foe. Yet the huntress soon realizes that even the glow of the Twin-Tailed City cannot protect her from the darkness. Blighted by terrible visions, she fears that her very spirit has been tainted. Blacktalon must choose whether to abandon her duty in the quest for a cure, or face the fearsome judgement of the Sacrosanct chamber.
About the Author
Andy Clark has written the Warhammer 40,000 novels Kingsblade, Knightsblade and Shroud of Night, as well as the novella Crusade and the short story 'Whiteout'. He has also written the novels Gloomspite and Blacktalon: First Mark for Warhammer Age of Sigmar, and the Warhammer Quest Silver Tower novella Labyrinth of the Lost. Andy works as a background writer for Games Workshop, crafting the worlds of Warhammer Age of Sigmar and Warhammer 40,000. He lives in Nottingham, UK.