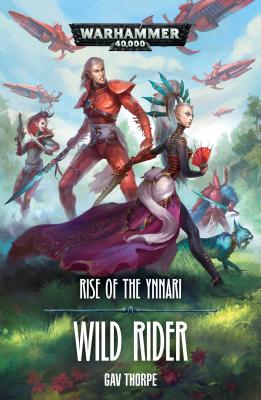 Wild Rider (Rise of the Ynnari #2) (Paperback)
Games Workshop, 9781784969332, 384pp.
Publication Date: May 28, 2019
* Individual store prices may vary.
Description
After their actions on the maiden world of Agarimethea awakened slumbering necrons, the Ynnari and the Wild Riders of Saim-Hann ally once more to try and defeat the threat – but what are Yvraine's real motives for assisting?

The Wild Riders of Saim Hann craftworld are renowned for their skill and daring, none more so than their headstrong Wild Lord, Nuadhu Fireheart. Having been approached by a representative of Yvraine, emissary of the Whispering God, Ynnead, Nuadhu has unwittingly awoken a slumbering threat – a tomb world of the aeons-old necrontyr. Now, Clan Fireheart must seek alliance with the Ynnari in order to combat the threat to their craftworld, and preserve their honour and the future of the family. The two forces return to Agarimethea to destroy the necrontyr before their strength becomes unassailable. But for what other purpose does Yvraine accompany Nuadhu and his kin, and what exactly is her interest in Naiall Fireheart, the ailing chieftain of the clan?
About the Author
Gav Thorpe is the author of the Horus Heresy novels Deliverance Lost, Angels of Caliban and Corax, as well as the novella The Lion, which formed part of the New York Times bestselling collection The Primarchs, and several audio dramas. He has written many novels for Warhammer 40,000, including Ashes of Prospero, Imperator: Wrath of the Omnissiah and the Rise of the Ynnari novels Ghost Warrior and Wild Rider. He also wrote the Path of the Eldar and Legacy of Caliban trilogies, and two volumes in The Beast Arises series. For Warhammer, Gav has penned the End Times novel The Curse of Khaine, the Warhammer Chronicles omnibus The Sundering, and much more besides. In 2017, Gav won the David Gemmell Legend Award for his Age of Sigmar novel Warbeast. He lives and works in Nottingham.