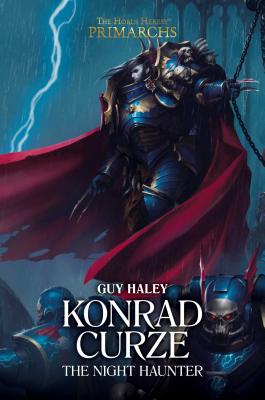 Konrad Curze
The Night Haunter (The Horus Heresy: Primarchs #12)
Hardcover

* Individual store prices may vary.
Description
The 12th release from The Horus Heresy Primarchs series. Explore the inner workings of the deranged Night Lords Primarch in this fantastic novel

Of all the Emperor's immortal sons, the primarchs, it is Konrad Curze whose legend is the darkest. Born in the shadows of Nostramo, a world of murderers, thieves and worse, is it any surprise that he became the figure of dread known only as the Night Haunter? Heed now the tragic story of the creature Konrad Curze, master of the Night Lords Legion, of how he became a monster and a weapon of terror. He who once served the Imperium saw the truth in a maddening universe and the hypocrisy of a loveless father, and embraced the only thing that made any sense – Chaos. From the blood-soaked gutters of his hiveworld upbringing, to the last days of his ill-fated existence, Curze is a primarch like no other and his tale is one to chill the very bone...
Games Workshop, 9781784969851, 208pp.
Publication Date: August 20, 2019
About the Author
Guy Haley is the author of the Horus Heresy novels Titandeath, Wolfsbane and Pharos, the Primarchs novels Corax: Lord of Shadows, Perturabo: The Hammer of Olympia, and the Warhammer 40,000 novels Dark Imperium, Dark Imperium: Plague War, The Devastation of Baal, Dante, Baneblade, Shadowsword, Valedor and Death of Integrity. He has also written Throneworld and The Beheading for The Beast Arises series. His enthusiasm for all things greenskin has also led him to pen the eponymous Warhammer novel Skarsnik, as well as the End Times novel The Rise of the Horned Rat. He has also written stories set in the Age of Sigmar, included in War Storm, Ghal Maraz and Call of Archaon. He lives in Yorkshire with his wife and son.