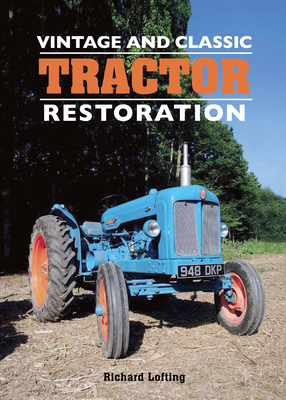 Vintage and Classic Tractor Restoration (Hardcover)
The Crowood Press UK, 9781785002663, 240pp.
Publication Date: April 15, 2017
* Individual store prices may vary.
Description
This is you one stop guide to restoring a vintage and classic tractors! You'll get a detailed account of restoring these machines to their former glory, starting with how to initially purchase a tractor--through private means or at auction--and then how to get your hands dirty and making it look factory new.

It is even possible to preserve a classic tractor in its working condition, which has a unique appeal to some tractor collectors and in some ways, is harder than a full restoration to undertake. Practical techniques have been amply illustrated throughout the book, ranging from the simple use of a lathe or milling machine to the making from scratch of various tools useful in restoration work.

Rather than just replacing items such as carburetor, starter motor or dynamo, practical advice is given on how to test and rebuild these components back to full operation. Fifty-two practical picture spreads show techniques suitable for restorers of all levels of skill.
About the Author
Richard Lofting has been messing about with old tractors and machinery most of his life.  He trained at college to ordinary diploma level in engineering and has been self employed working as a landscape gardener for many years.  He regularly writes in Tractor & Farming Heritage and Heritage Commercials magazines, demonstrating repair techniques associated with these older vehicles and the correct procedures that should be followed.  
or
Not Currently Available for Direct Purchase