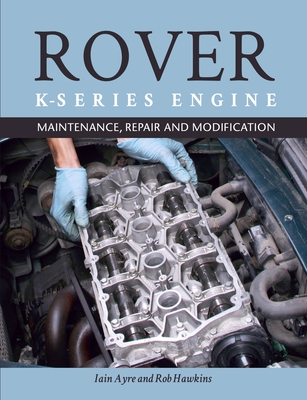 Rover K Series Engine (Paperback)
Maintenance, Repair and Modification
The Crowood Press UK, 9781785003936, 176pp.
Publication Date: August 7, 2018
* Individual store prices may vary.
Description
Getting a Rover K-Series engine properly up and running can be a difficult task, but the result is always worthwhile.   Rover K-Series Engine - Maintenance, Repair and Modification is a practical guide to keeping these unique engines in fine working order.  The most well-known issue with the K-Series is the head gasket, and this book identifies common faults, before giving practical advice on how best to solve them.  Step-by-step guidance on  long-term engine maintenance is provided, in addition to the improvements required to prevent further problems.  A K-Series engine is stripped down to examine its clever and interesting structure, and is rebuilt with improvements.  Authors of over twenty automotive books, Iain Ayre and Rob Hawkins have combined their knowledge to bring you this book on the Rover K-Series engine.  Topics covered include the history of the K-Series; common faults and solutions; full strip down and rebuild; the Rover KV6; modifications for power and reliability; electronics and programming and comparisons with similar engine options.
About the Author
Born in Glasgow and now resident in Canada, Iain Ayre is both opinionated and unfocused, and was warmly encouraged by his school to leave. After several random gap year jobs he decided to take an English and art teaching degree, but as teaching is hard work, he became a model portfolio photographer, cartoonist, advertising copywriter, copy chief and creative director, ending up as a writer at J. Walter Thompson in Mayfair. Unwisely, he launched an ad agency, and when that ended in tears, ambled into motoring journalism, writing for Triumph World, Classic Cars, MG Enthusiast, Kitcar, Japanese Performance, Redline, Jaguar World and Australian and US titles. He launch-edited Classic Ford, and wrote fourteen books about cars and one about gourmet dog food. In his spare time, he creates the occasional car: a Mini based three-wheeler, spaceframed XK120 replicas, a propane turbo V8 Cobra, and currently an Art-Deco-inspired Rolls-Royce boat-tailed two-seat speedster in aluminium.