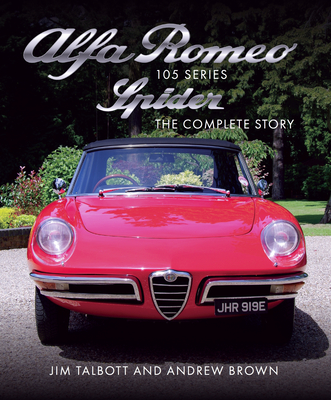 Alfa Romeo Series 105 Spider (Hardcover)
The Complete Story
The Crowood Press UK, 9781785006494, 192pp.
Publication Date: March 3, 2020
* Individual store prices may vary.
Description
At the heart of all Alfa Romeo cars is a design philosophy that makes them true drivers' cars and one reason to own a classic Alfa is to enjoy a driving experience that is no longer available from modern vehicles. The Alfa Romeo 105 series Spider first appeared in 1966 and is one of the most admired drop-head sports cars to come out of Italy, however its radical new look was not immediately welcomed. 

As prospective buyers gradually warmed to the model, enhancements were introduced including more powerful engines and higher-spec body and interior fittings. Despite its inauspicious start, production of this much-admired car lasted for twenty-seven years, finally stopping in 1993. Jim Talbott and Andrew Brown pay homage to the 105/115 series Alfa Spider.   
About the Author
Jim Talbott is the Events Co-ordinator for the Alfa Romeo Owners Club and has served on the club's National Committee for 13 years. An owner of Alfas since 1972, he has a keen interest in motorsports, particularly historics and touring cars.
Andrew Brown is an artist, designer and film maker. In his twenties he joined Motor Sport, creating advertisements and drawing racing cars. After running his own advertising agency, he started producing corporate television programmes and then worked in the pharmaceutical industry. He is a member of the Guild of Motoring Writers and edited the Alfa Romeo Owners Club magazine for several years.  Andrew owns four classic Alfas, including a series 4 Spider.