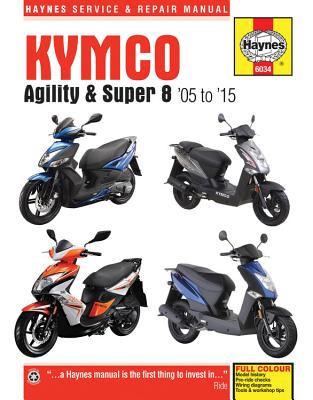 Kymco Agility & Super 8 Scooters, '05-'15 (Haynes Motorcycle) (Paperback)
Haynes Manuals N. America, Inc., 9781785210341, 256pp.
Publication Date: April 25, 2017
* Individual store prices may vary.
Description
The Kymco Agility & Super 8 Scooters, '05-'15 repair manual, like every Haynes scooter manual, is written and photographed from hands-on experience gained by a complete tear down and rebuild of the vehicle. The first Haynes manual was written this way over 55 years ago, and Haynes continues to produce all manuals this way, making Haynes the world leader in repair information.
About the Author
Haynes Publishing is the worldwide leader in automotive and motorcycle repair, maintenance and customizing manuals. Every manual is written from hand-on experience based on a complete teardown of the machine, which is the step-by-step procedure of dismantling a particular vehicle part-by-part. This is followed by the detailed rebuilding of the model. Hundreds of photos accompany each manual's step-by-step instructions.
or
Not Currently Available for Direct Purchase