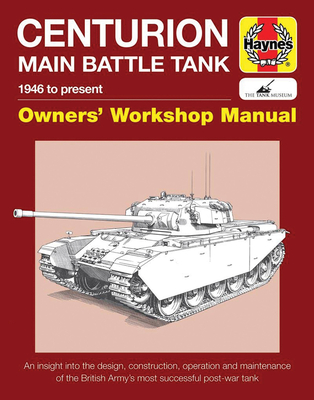 Centurion Main Battle Tank (Hardcover)
1946 to present (Owners' Workshop Manual)
Haynes Publishing UK, 9781785210570, 160pp.
Publication Date: April 1, 2017
* Individual store prices may vary.
Description
First trialled in Europe in the spring of 1945, but formally introduced into British Army service in December 1946, not only is the Centurion one of the most important tanks in the history of the British armoured fighting vehicle (AFV), but it is also one of the most significant post-war Western tanks. Between 1946 and 1962, 4,423 Centurions were built in 13 basic marks and numerous variants, with the chassis also adapted for several other AFV roles. A small number of the Beach Armoured Recovery Version (BARV) served with the British forces during the Iraq War of 2003, some 58 years after the Centurion first entered service! The Centurion has seen extensive combat in the Korean War (Britain), Vietnam (Australia), the Middle East (Israel) in the 1967 Six Day War, 1973 Yom Kippur War, and during the 1978 and 1982 invasions of Lebanon, and in the Indo-Pakistan War (India) in 1965 where it fought against US-supplied M47 and M48 Patton tanks.
About the Author
Simon Dunstan is an author, filmmaker and photographer who has written more than 50 books on military history, in particular on the Second World War and Vietnam. He has also written and directed a number of military history documentaries for the History Channel. He is the author of The Centurion (Modern Combat Vehicles: 2, Ian Allan, 1980) and Centurion vs T-55 (Osprey, 2009). He lives in London.