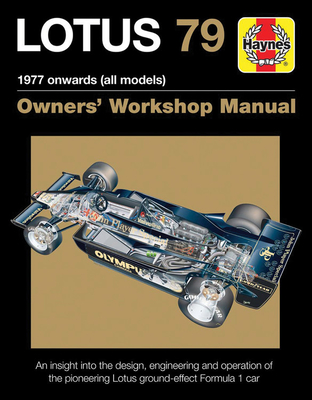 Lotus 79 1977 onwards (all models) (Hardcover)
An insight into the design, engineering and operation of the pioneering Lotus ground-effect Formula 1 car (Owners' Workshop Manual)
Haynes Publishing UK, 9781785210792, 156pp.
Publication Date: November 1, 2016
* Individual store prices may vary.
Description
The Lotus 79, with its classic JPS black and gold sponsorship colours, was the first F1 car to fully exploit the potential of ground-effect aerodynamics. Designed by Colin Chapman and his engineering team, the Lotus 79 dominated the 1978 World Championship, taking US driver Mario Andretti with his only F1 World Championship.
About the Author
Andrew Cotton is a professional motoring and motorsport journalist and is currently Editor of the highly respected Racecar Engineering magazine. In the past he has worked in motorsport PR with various suppliers, motor manufacturers and teams, and as press officer for the British Formula Three and Formula Vauxhall Junior championships. He has contributed to numerous magazines and books, including Porsche Sport yearbook and Automobile Year, and was author of the FIA GT Championship and Le Mans Series yearbooks from 2004?_"2009. He lives in Hertfordshire.