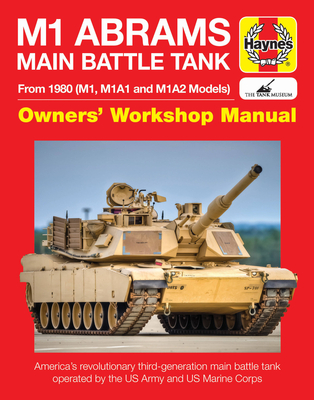 M1 Abrams Main Battle Tank Manual (Hardcover)
From 1980 (M1, M1A1 and M1A2 Models) (Haynes Manuals)
Haynes Publishing UK, 9781785210990, 160pp.
Publication Date: June 10, 2017
* Individual store prices may vary.
Description
The American M1 Abrams main battle tank is a revolutionary design: it broke an evolutionary development lineage from the M20 medium tank of 1941 to the M60 (which it replaced, and which stayed in production until 1987). 

The M1 remains the only main battle tank in the inventories of the US Army and the US Marine Corps, with years of service to come, while no replacement has been procured. It is believed that the M1 will easily serve for more than 50 years in the US alone.

The US retains about 6,000 M1s, while almost 2,000 are in use with the armies of other countries including Australia, Egypt, Iraq, Kuwait, and Saudi Arabia.
About the Author
Bruce O. Newsome, PhD, first served on M1 Abrams tanks in the Pennsylvania National Guard, and advised the US Army on acquisitions as a research scientist. He is now Assistant Teaching Professor of International Relations at the University of California, Berkeley. Bruce also volunteers in the Tank Museum's archives and workshops. He lives in California.
Gregory Walton served with the California National Guard and US Army on the M60A3, and on the M1 Abrams in the Gulf War. Greg now works with the Federal Bureau of Investigation. He lives in California.