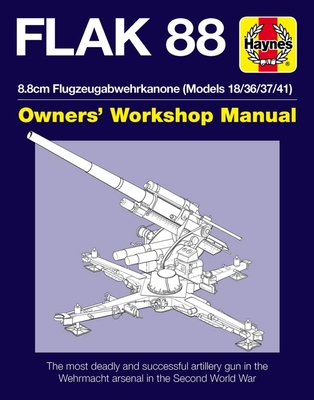 Flak 88 Owners' Workshop Manual (Hardcover)
8.8cm Flugzeugabwehrkanone (Models 18/36/37/41) (Haynes Manuals)
Haynes Publishing UK, 9781785211331, 192pp.
Publication Date: March 27, 2018
* Individual store prices may vary.
Description
The 8.8cm Flugzeugabwehrkanone 18/36/37/41 - more popularly known as the 'Flak 88' - was one of the most successful and influential artillery gun types in the German arsenal in the Second World War. Developed during the 1920s and 1930s, the gun combined accuracy, a high muzzle velocity and a rapid rate of fire (15–20rpm). Although at first developed as an anti-aircraft gun, it went on to achieve equal repute as an anti-tank weapon, imposing horrific casualties on Allied armor across all major European and North African theaters of war. In one clash in Normandy, in June 1944, for example, a single Luftwaffe 8.8cm battery destroyed some 40 Allied tanks. 
About the Author
Chris McNab specializes in military history and military technology. He has published more than 40 books, including the Haynes Kubelwagen/Schwimmwagen Manual, Roman Soldier Operations Manual, Dreadnought Battleship, and the RAF Chinook Manual. Chris has also written extensively for major encyclopedia series, magazines and newspapers, and he lives in Wales.