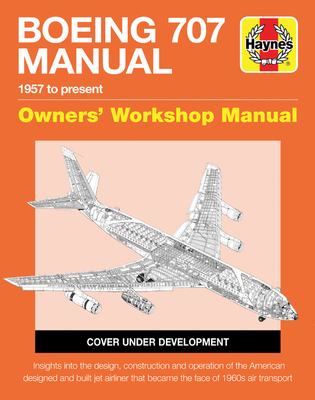 Boeing 707 Owners' Workshop Manual (Hardcover)
1957 to present - Insights into the design, construction and operation of the American designed and built jet airliner that became the face of 1960s air transport (Haynes Manuals)
Haynes Publishing UK, 9781785211362, 192pp.
Publication Date: June 19, 2018
* Individual store prices may vary.
Description
Built by Boeing Commercial Airplanes, the 707 narrow body jet airliner first flew in 1957 and entered revenue service with Pan American World Airways in 1958. Versions of the aircraft have a capacity from 140 to 219 passengers and a range of 2,500 to 5,750 nautical miles. Developed as Boeing's first jet airliner, the 707 is a swept-wing design with podded engines. Although it was not the first jetliner in service, the 707 was the first to be commercially successful. Dominating passenger air transport in the 1960s and remaining common through the 1970s, the 707 is generally credited with ushering in the age of jet travel. It established Boeing as one of the largest manufacturers of passenger aircraft and led to the later series of airliners with '7x7' designations. The later 720, 727, 737, and 757 share elements of the 707's fuselage design.
About the Author
Charles Kennedy is a pilot, musician and a regular features writer for Airliner World, Airways, Flypast and Aviation News. He is the author of these books: Air3 (with Sam Chui) and DC-8 and the Flying Tiger Line (with Guy Van Herbruggen), and Jetliners of the Red Star, a history of the Soviet Union's jet airliner types. Born in Sydney, Australia, Charles lives in London.
or
Not Currently Available for Direct Purchase