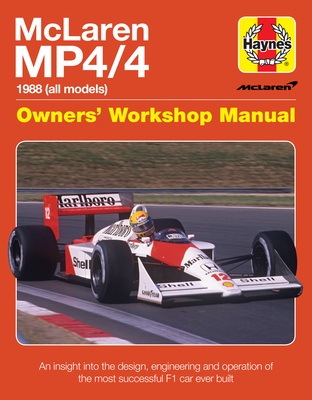 McLaren MP4/4 Owners' Workshop Manual
1988 (all models) - An insight into the design, engineering and operation of the most successful F1 car ever built
Hardcover

* Individual store prices may vary.
Description
The McLaren MP4/4 is the iconic Honda V6 turbo-powered F1 car built by McLaren for the 1988 grand prix season, driven by Ayrton Senna and Alain Prost. Remarkably, the car won all but one race during 1988, and took McLaren's then-new recruit Senna to his first Drivers' World Championship after a season-long battle with team-mate Prost. McLaren achieved an astonishing 10 one–two finishes with the car, and suffered only two car-related retirements during the season. The MP4/4 is still statistically the most dominant F1 car ever built.

Ironically, the fact that McLaren was already an enormously successful and well-resourced team prior to 1988 has led to the assumption that producing another winning car in the form of the MP4/4 was simply business as usual. The truth is rather different, with many challenges along the way, mistakes to resolve and, as ever in motor racing, an element of luck, all playing a part in the MP4/4's extraordinary success.

A wealth of previously unpublished archive material, including original technical drawings and team documentation, provides fascinating new insight into the design and build of the MP4/4.

Produced with the full cooperation of McLaren, and unique access to a race-winning MP4/4 chassis, this manual tells for the first time the accurate story of the design, engineering and operation of one of F1's most iconic cars, featuring extensive and often candid input from the designers, engineers and drivers involved.
The McLaren story: Brief history of McLaren prior to the MP4/4 and subsequent history to the present day.
Design and build of the MP4/4: The full story of how a completely new car, along with a one-off Honda engine, were designed and built for the 1988 season.
The MP4/4 in action: A race-by-race account of the MP4/4's performance in the 1988 World Championship.
The anatomy of the MP4/4: Chassis, aerodynamics, suspension, steering, brakes, Honda engine, transmission, wheels and tyres, cockpit and electrics.
The drivers: Insight from Alain Prost and test-driver Emanuele Pirro, plus a profile of Ayrton Senna with thoughts from his former teammates.
Appendices: Specifications, race results and statistics and full chassis histories.
Haynes Publishing UK, 9781785211379, 176pp.
Publication Date: June 19, 2018
About the Author
Steve Rendle is an experienced author and editor, who has written over 15 books about cars. He has a passion for F1, and if he could have any car in the world it would be a McLaren Senna.