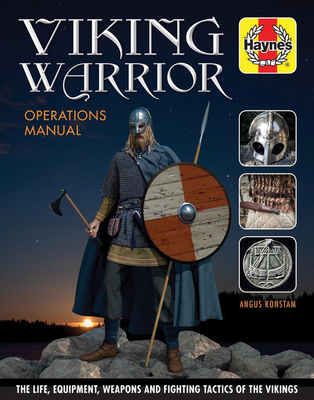 Viking Warrior Operations Manual (Hardcover)
The life, equipment, weapons and fighting tactics of the Vikings (Haynes Manuals)
Haynes Publishing UK, 9781785211737, 192pp.
Publication Date: June 5, 2018
* Individual store prices may vary.
Description
The Viking Warrior Operations Manual is an in-depth look at the Viking warrior culture, from 700 to 1066. It focuses on their origins and how they raided their way to expansion over much of the known world. The warrior culture, clan warfare, overlords and local kingdoms, their relationship with the sea and ships, raiding, harrying and assimilation are all covered in the book.
About the Author
ANGUS KONSTAM is a widely published and respected military and naval historian, with numerous books to his credit. A former Royal Naval officer, maritime archaeologist and museum curator, he holds degrees from three universities, including a Masters degree from St. Andrews.
He is the author of several major books, including a biography of Blackbeard, histories of piracy, Renaissance ships and the Scottish soldier, and studies of the battles of North Cape and Salerno. He has also written over 50 books for Osprey Publishing, including reference works on the dreadnought battleships of the First World War.
He has given numerous public lectures in Britain, as well as in Europe and North America, and his work has been translated into several languages.
He is frequently interviewed by the press in his capacity as a maritime historian, and has appeared live on both television and radio. He also made frequent appearances in television documentaries screened by the BBC and ITV, as well as the History and Discovery Channels.