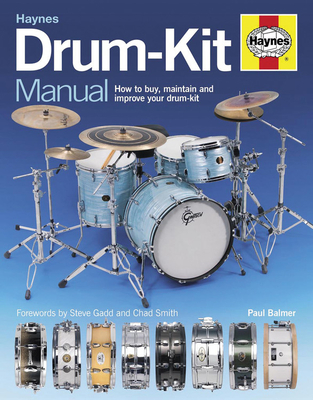 Drum Kit Manual (Paperback)
How to buy, maintain and improve your drum-kit (Haynes Manuals)
Haynes Publishing UK, 9781785211768, 208pp.
Publication Date: May 29, 2018
* Individual store prices may vary.
Description
The modern drum-kit has come a long way in the 110 years that have elapsed since it evolved in 1901 in the bars and brothels of New Orleans – but the principles remain the same. The biggest improvement has been the introduction of better engineering and sturdier hardware – all of which needs constant maintenance. Drum Kit Manual is the latest addition to the expanding list of Haynes Manuals about musical instruments, and it covers the subject in exhaustive detail with step-by-step instructions and clear colour photographs.
About the Author
Paul Balmer, who has written six Haynes Manuals about guitars, is the son of dance band drummer Bill Balmer. Paul played drums from the age of 11 in the Merseybeat boom of the 1960s. He built his own kit from bits and pieces and, having no other option, did his own maintenance. His perfectly preserved 1964 Premier kit will be examined and maintained as a case study. His father's 'bitsa' 1940s dance band kit will provide a useful historical reference. Paul lives in Northamptonshire.