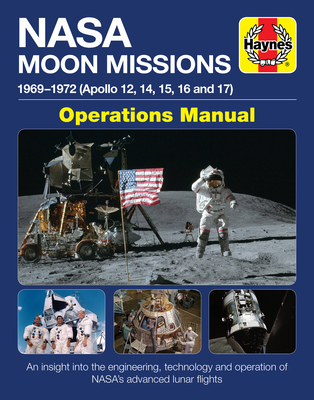 NASA Moon Missions Operations Manual (Hardcover)
1969 - 1972 (Apollo 12, 14, 15, 16 and 17) - An insight into the engineering, technology and operation of NASA's advanced lunar flights (Haynes Manuals)
Haynes Publishing UK, 9781785212109, 220pp.
Publication Date: July 9, 2019
* Individual store prices may vary.
Description
Published to coincide with the 50th anniversary of the first Moon landing by Apollo 11.

The story of Apollo has been told many times, but most accounts stop at the first landing. This book picks up where others have left off, and describes the five post-Apollo 11 Moon landings, defined as technical developments built upon engineering excellence. It was only through the robust design adopted when aerospace contractors first designed and built the Apollo spacecraft and the Lunar Module that successive evolutions were possible, taking lunar-landing operations far beyond what had first been envisaged.

This book is not intended to tell the full story of each mission, but rather to describe the technical development of spacecraft and equipment necessary to grow the capability from a single EVA
('moonwalk') of less than three hours, to advanced missions where astronauts spent three full working days exploring their landing sites. With the aid of a Lunar Roving Vehicle, they collected a wide
variety of rocks and soil and left a range of instruments at the surface powered by a thermonuclear generator. As interest grows in humans returning to the Moon, 50 years on from those pioneering days of lunar exploration, we look again at what was accomplished at the dawn of the Space Age, spurred on by a political goal and developed as a tool for science. 

The story of the Apollo Moon missions is an expression of those achievements.


About the Author
Dr. David Baker worked with NASA on the Gemini, Apollo and Shuttle programmes between 1965 and 1990. He has written more than 80 books on spaceflight technology and is the author of the Haynes NASA Space Shuttle Manual, International Space Station Manual, NASA Mars Rovers Manual, Apollo 13 Manual, Soyuz Manual, Rocket Manual and forthcoming Hubble Space Telescope Manual. He lives in East Sussex.