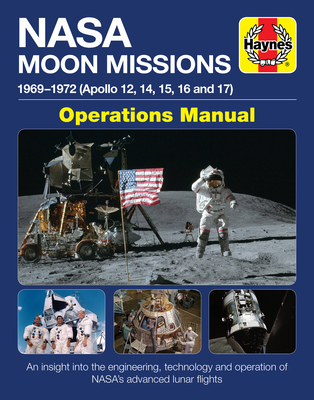 NASA Moon Missions Operations Manual (Hardcover)
1969 - 1972 (Apollo 12, 14, 15, 16 and 17) - An insight into the engineering, technology and operation of NASA's advanced lunar flights (Haynes Manuals)
Haynes Publishing UK, 9781785212109, 224pp.
Publication Date: June 25, 2019
* Individual store prices may vary.
Description
Published to coincide with the 50th anniversary of the first Moon landing by Apollo 11.

This book concludes the story of the Apollo project, detailing all the engineering developments made and the research carried out during the manned Moon missions. NASA Moon Missions Operations Manual completes the story of US manned spaceflight to date, completing the series of Haynes Manuals including: Mercury, Gemini, Apollo 11, Apollo 13, Lunar Rover, Saturn V, Space Shuttle, International Space Station and Skylab.
About the Author
Dr. David Baker worked with NASA on the Gemini, Apollo and Shuttle programmes between 1965 and 1990. He has written more than 80 books on spaceflight technology and is the author of the Haynes NASA Space Shuttle Manual, International Space Station Manual, NASA Mars Rovers Manual, Apollo 13 Manual, Soyuz Manual, Rocket Manual and forthcoming Hubble Space Telescope Manual. He lives in East Sussex.