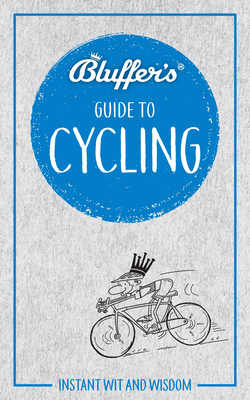 Bluffer's Guide To Cycling (Paperback)
Instant Wit and Wisdom (Bluffer's Guides)
Haynes Publishing UK, 9781785212284, 136pp.
Publication Date: June 26, 2018
Other Editions of This Title:
Paperback (5/1/2013)
* Individual store prices may vary.
Description
Instantly acquire all the knowledge you need to pass as an expert in the world of cycling. Never again confuse a MAMIL with a MTBER, a fixie with a folder, or a Boris bike with a 'bonk'. Bask in the admiration of your fellow bike enthusiasts as you pronounce confidently on the difference between a hobbyhorse and a draisienne, and know exactly what position to take on the contentious issue of whether cyclists should be obliged to pay road tax. Most of all, effortlessly learn how to puncture countless modern cycling myths (not to mention more than a few tyres).

Written by experts and offering readers the opportunity to pass off appropriated knowledge as their own, the Bluffer's Guides provide hard fact masquerading as frivolous observation in one witty, easy read. 
 
About the Author
Rob Ainsley grew up in Hull, which Philip Larkin described as "nice and flat for cycling – that's about the best I can say." Taking Norman Tebbit's advice of the time, he got on his bike and looked for work, but found he liked cycling more than work. He has cycled all over the UK and more than 30 other countries, and can shout at taxi drivers in four languages. He is a regular contributor to Cycle (CTC magazine) and Cycling Plus, wrote the guidebook 50 Quirky Bike Rides (Eye Books) and is a cycling blogger (www.realcycling.co.uk) and Twitterer (@realcycling).