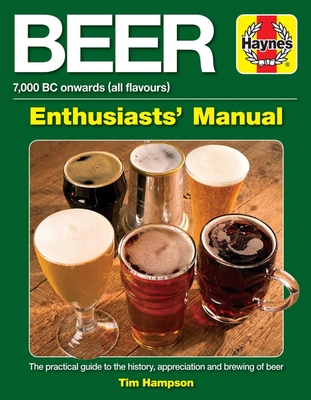 Beer Enthusiasts' Manual (Paperback)
7,000 BC onwards (all flavours). The practical guide to the history, appreciation and brewing of beer (Haynes Enthusiast Guide)
Haynes Publishing UK, 9781785212543, 152pp.
Publication Date: November 27, 2018
* Individual store prices may vary.
Description
New in paperback. Beer, the world's third-most-popular drink after water and tea, comes in many forms and flavours. This down-to-earth, extensively illustrated book brings the successful Haynes Manual approach to the world of beer, providing a fascinating insight into how beers and brewing techniques have developed around the world, and offering practical guidance on how to produce successful home-brewed beer. Beer Enthusiasts' Manual is essential reading for all beer fans, from drinkers wishing to learn more about the beer they drink, to potential master brewers.
About the Author
Tim Hampson is an acknowledged expert on beer. He has written a number of best-selling books on beer and brewing, including 101 Beer Days Out, London's Best Pubs and The Beer Book. His work also appears in Food and Travel magazine, Weekend Telegraph and What's Brewing, in addition to various trade publications, and he is also beer correspondent for BBC Good Food Live and the Sky Pub Channel. He lives near Oxford.