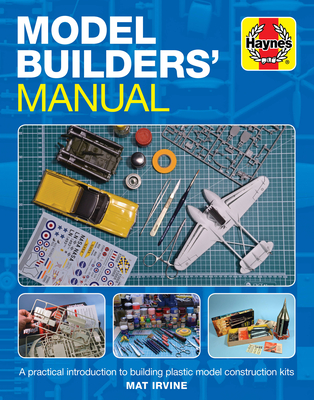 Model Builders' Manual (Hardcover)
A practical introduction to building plastic model construction kits (Enthusiasts' Manual)
Haynes Publishing UK, 9781785215551, 188pp.
Publication Date: July 23, 2019
* Individual store prices may vary.
Description
Written by renowned modelling expert and TV visual effects designer Mat Irvine, the Model Builders' Manual provides a practical guide for both novice and experienced model builders, showing how to obtain professional results, with a focus on plastic model kits. In addition to the practicalities of building models, this introduction to modelling covers the history of how the modern kit industry developed, how a model kit is designed, the range of tools and paints available to build models, the origins and variety of the various scales, collecting models and model clubs. Practical coverage includes details of basic building techniques, painting and spraying, decals and dioramas, plus techniques associated with predominantly plastic-based hobby kits such as white metal, photo-etch and resin components.
About the Author
Mat Irvine is probably best-known for his work as a Technical Consultant and Visual Effects Designer who worked on television, primarily for the BBC, from the 1970s to the 1990s.  As a Technical Consultant, Irvine worked on shows such as The Sky at Night, Tomorrow's World and the original series of Robot Wars. As a Visual Effects Designer, Irvine worked on shows such as Rentaghost, Terry and June, Blake's 7, The Tripods, Edge of Darkness and To the Manor Born.  He is perhaps best known for his work on Doctor Who, for which he was a Visual Effects Designer, from the 1970s to the 1980s. He is credited with building the first K-9 prop for the program.  Nowadays, he makes appearances at sci-fi and Doctor Who conventions, often alongside K-9, which he still operates. He also organizes and runs regular models shows.