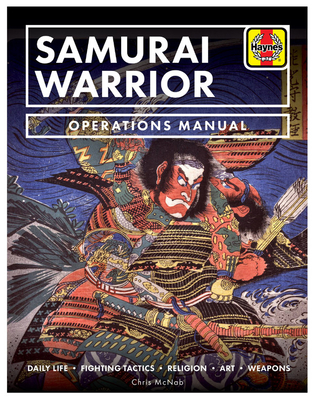 Samurai Warrior Operations Manual (Hardcover)
Daily Life * Fighting Tactics * Religion * Art * Weapons (Haynes Manuals)
Haynes Publishing UK, 9781785215629, 156pp.
Publication Date: June 25, 2019
* Individual store prices may vary.
Description
Samurai Warrior Operations Manual examines the Samurai world: the moral and psychological development of the warrior, the ethical standards they were meant to uphold, their training in both martial arts and strategy, and the enormous role that the traditions of Shintoism, Buddhism, Confucianism, and Taoism had in influencing samurai ideals. It also examines the more personal aspects of a Samurai warrior: what they ate, how they dressed, the weapons they used, their battle tactics, and the fascinating details of their day to day life.
About the Author
Chris McNab specializes in military history and military technology. He has published more than 40 books, including the Haynes Kubelwagen/Schwimmwagen Manual, Roman Soldier Operations Manual, Dreadnought Battleship, and the RAF Chinook Manual. Chris has also written extensively for major encyclopedia series, magazines and newspapers, and he lives in Wales.