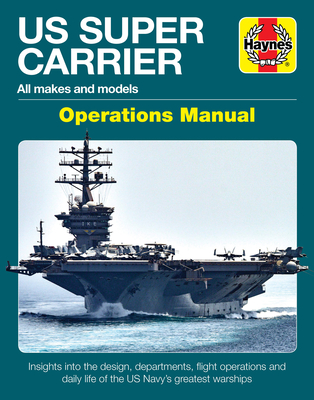 US Super Carrier (Hardcover)
All makes and models * Insights into the design, departments, flight operations and daily life of the US Navy's greatest warships (Operations Manual)
Haynes Publishing UK, 9781785216671, 188pp.
Publication Date: August 25, 2020
* Individual store prices may vary.
Description
The US Navy's fleet of aircraft carriers are at the heart of global American military force. With nuclear-powered oceanic range, complements of nearly 5,000 crew, and typically carrying more than 70 combat aircraft, US carriers can remain on station for months, delivering aerial combat strikes on distant targets around the clock.

The Haynes US Super Carrier Operations Manual offers unrivaled insights into understanding how a modern US super carrier is operated. The US Navy has given Haynes author Chris McNab and photographer Patrick Bunce official clearance to spend time at sea on one of its 'Nimitz' or 'Gerald R. Ford' class super carriers. 

During the visit Chris conducted interviews with key personnel of all major departments, including flight-deck crew, aviators, ordnance officers, engineers, logisticians, operations crew and the captain; while Patrick photographed life above and below decks, with a special focus on the engineering side of carrier aviation often not covered in other publications.
About the Author
Chris McNab specializes in military history and military technology. He has published more than 100 books, including the Haynes Kubelwagen/Schwimmwagen Manual, Roman Soldier Operations Manual, Dreadnought Battleship, Siege Warfare, Falklands War, and the RAF Chinook Manual. Chris has also written extensively for major encyclopedia series, magazines and newspapers, and has made TV appearances as an expert commentator for Discover, Sky and History channels.