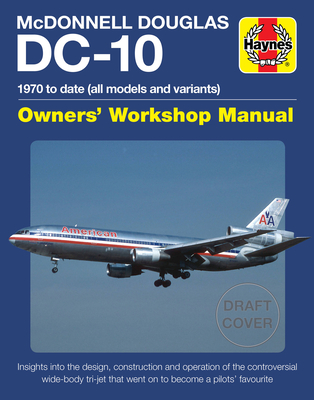 McDonnell Douglas DC-10 Owners' Workshop Manual (Hardcover)
1970 to date (all models and variants) - Insights into the design,construction and operation of the controversial wide-body tri-jet that went on to become a pilots' favorite
Haynes Publishing UK, 9781785217227, 192pp.
Publication Date: November 10, 2020
* Individual store prices may vary.
Description
The DC-10 was a three-engine wide-body jetliner created by McDonnell Douglas, born from a lineage that included the most popular and important propliners of all time, including the DC-3 Dakota and the DC-8 jet (Douglas' answer to the Boeing 707). It entered service in 1971 and was supposed to be a smash hit, but a series of accidents that were a result of design shortcomings made it a controversial aircraft in the eyes of passengers and the industry.

Despite these setbacks, 446 were built and it became a pilots' favourite. McDonnell Douglas DC-10 Owners' Workshop Manual includes the story of the DC-10; anatomy; engines; flying the DC-10; safety report; and the DC-10 in uniform. Also covered in text and photos are the 'hot rod' DC-10-15s for Mexicana and Aeromexico airlines; comparison with the Lockheed L.1011 TriStar; unbuilt variants; unbuilt orders, including Air Force One, and the DC-10 in popular culture - novels, films, TV commercials. 
About the Author
Charles Kennedy is the author of the Haynes Owners' Workshop Manual for the Boeing 707, as well as six other aviation books – Jetliners of the Red Star, The Story of the MD-11, DC-8 and The Flying Tiger Line, Tiger 747, Air3 and Air747. He is a regular features writer for Airliner World, Aviation News, Airways and Flypast. He was the only passenger on the last ever DC-10 passenger flight.