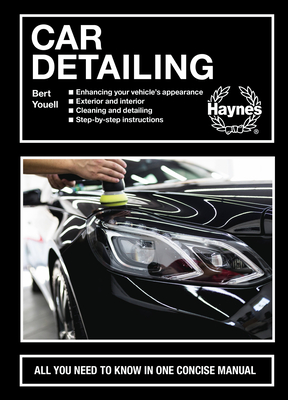 Car Care & Detailing (Hardcover)
All you need to know in one concise manual (Concise Manuals)
Haynes Publishing UK, 9781785217319, 144pp.
Publication Date: July 7, 2020
* Individual store prices may vary.
Description
This is a Concise Manual, aimed at the DIY car detailer – a growing area of the car-enthusiast market. Car detailing is essentially high-end car valeting, which includes not only exterior paintwork, but almost every detail of the car – from tyres to mirror class, from engine components to exhaust.

A general car wash will take up the form of a wash and vacuum, with exterior washing involving a shampoo wash (of the whole car including wheels and tyres), a dry off using a towel to stop any water spots or streaks, and sometimes a spray wax. Car valeting is a step up, and is generally any offering you see at a car wash. There will be different cost levels from wash, dry and wax – much like the above, but with a little more attention to detail – door shuts may also be included. There may even be a vacuum and dash polish, which will cost you a little bit more, and if you opt for a top of the range valet, you'll often receive a polish to the paintwork, as well a clean to the windows (inside and out).

Detailing is when it goes deeper than what's on top of the paint. Following a snow foam (to remove any loose contaminants) and a good thorough wash (using the two-bucket method) a clay bar will be used to remove embedded contaminants in the paint, such as tar, tree sap or anything that's buried deep enough not to be removed by your wash stage. Much like a valet, there are different tiers to a car detail. Depending on the level of detail you require, you may even decide to go down the compound route to further smooth the paint. This will often involve the use of a machine polisher. This process helps to remove any imperfections while polishing the paint's surface, leaving a swirl-free finish. Machine polishers remove fine lines in paint, swirl marks and even orange peel, making the car look even better than when it left the factory. Once all this is complete, a detailer will finish all paintwork with the application of a good wax or sealant. This protects the work carried out, but also increases the longevity of the finish. When cleaning wheels, detailers often remove the wheels from the car enabling them to get to the back to clean hard-to-reach areas, while cleaning up the brakes and components such as the inner wheel-arch lining.

Working in the interior, detailers will vacuum all areas, as well as using carpet shampoo to remove any stains. Other surfaces such as upholstery, trims and headlining, will also be wet-cleaned. Special brushes or compressed air may be used to clean vents and instruments. Windows and seals will also be cleaned, and seats will be worked on with very specific products depending on the material. Engine bays may be worked on too. Detailing enables re-spray-style finishes, without actually having to pay for a full re-spray of paint. It is the attention to detail that defines a 'detailer.'

Car Care & Detailing covers all aspects of detailing, including the vast array of detailing products available from a wide range of manufacturers, with practical step-by-step instructions and advice from professional detailers. The down-to-earth text will enable detailing enthusiasts to carry out their own detailing, but will also arm them with good information about techniques and products to enable them to make informed choices should they choose to employ professional detailers.
About the Author
Bert Youell is the editor of Pro Detailer magazine, and set up the Pro Valeters & Detailers Trade Association in 2012. He devises and runs training courses for the valeting and detailing industry, and is an experienced writer on a number of subjects.