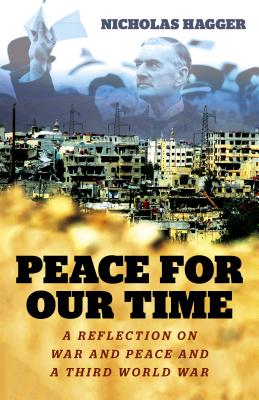 Peace for Our Time
A Reflection on War and Peace and a Third World War
Paperback

* Individual store prices may vary.
Description
In this remarkable memoir Nicholas Hagger reflects on war and peace and on 'peace for our time', Chamberlain's haunting words in 1938 that ushered in the Second World War. Peace then turned out to be an illusion shattered by the outbreak of hostilities. Will world peace again turn out to be an illusion? With a lightness of touch Nicholas Hagger addresses the burning issue of our time - whether a new world structure can avert a new world war - and unveils a vision of a better, safer world for our grandchildren. This stimulating work will fascinate and inspire a new generation looking beyond nation-state self-interest to world unity.
O Books, 9781785357060, 304pp.
Publication Date: March 30, 2018
About the Author
Nicholas Hagger is a poet, man of letters, cultural historian and philosopher. He has lectured in English Literature at the University of Baghdad in Iraq and the University of Libya, and was a Professor of English Literature at Tokyo University of Education, Keio University and Tokyo University in Japan. He has studied Islamic and Oriental philosophy, and led a group of Universalist philosophers. He is the author of more than 40 books. These comprise a substantial literary output of over 2,000 poems, including over 300 classical odes; two poetic epics; 5 verse plays and a masque; 1,200 short stories; travelogues; and innovatory works in literature, history and philosophy. Following his recent work in setting up a World State, which his two epic poems heralded, he was awarded the Gusi Peace Prize 2016 for Literature.
or
Not Currently Available for Direct Purchase