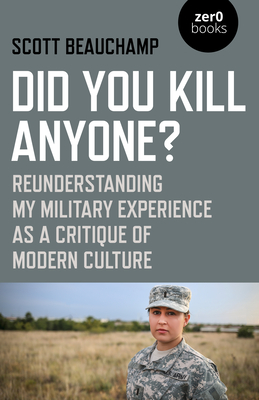 Did You Kill Anyone?
Reunderstanding My Military Experience as a Critique of Modern Culture
Paperback

* Individual store prices may vary.
Description
Most American soldiers in Iraq had a deep, thick plastic box called a guerrilla box which usually sat at the end of their cot. Soldiers would keep all kinds of things in their box. Weapon cleaning kits. Extra equipment. Blankets and pillows from home. Footballs. Protein powder. Mine was full of books. These are not confessions. Nor are they essays. Nothing is off the table in Did You Kill Anyone?, a hybrid compendium of thoughts and observations whose narrative thrust is propelled and shaped by the inquiry itself. Drawing from and elaborating on years of the author's work on the peripheries of this subject, published in such outlets as The Paris Review, The Atlantic, Rolling Stone, and The American Conservative, Did You Kill Anyone? asks a question that is rarely, if ever, discussed publicly: 'why do soldiers miss war?'. With the intimacy of a memoir and the force of a critical analysis, Scott Beauchamp gives his daring, counterintuitive take, interrogating the frivolous conformity of our increasingly inhuman(e) culture.
Zero Books, 9781785357862, 144pp.
Publication Date: February 1, 2020
About the Author
Scott Beauchamp is a United States veteran who was deployed twice to Iraq. His work has appeared in The Paris Review, The Atlantic, Rolling Stone, Bookforum, The Washington Post, The Guardian, and The Brooklyn Rail, among others. He lives in Bath, Maine, USA.