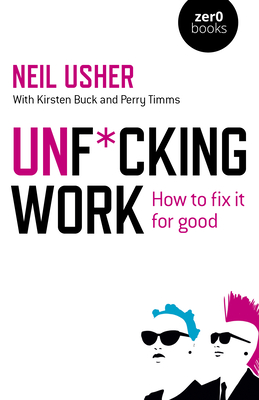 Unf*cking Work
How to Fix It for Good
Paperback

* Individual store prices may vary.
Description
Every journey starts with the realization that we don't have to take any more of this crap. The world of work - and all that's wrong with it - is dominated by 12 statements. We hear them every day. We utter them at will. But they're all garbage. What if we said - no more? This is the business book for everyone who can't bear to read business books. Which is most of us. It considers that in being part of the problem - an uncomfortable admission - we may also be the creators of the solution. In uncompromising, engaging and humorous fashion, it dismantles each statement and sets us on the path to a better world of work. You can read each essay between meetings you'd rather not be at, after which, your working life will never be the same again. Neil Usher is a practitioner, writer and thinker about work and the workplace. His collaborators on this book, Kirsten Buck and Perry Timms are, too. We've skipped the usual sensational endorsements because most of the time they're a fiction. We'd rather you decided for yourself.
Zero Books, 9781785359514, 216pp.
Publication Date: October 1, 2022
About the Author
Neil Usher is a professional workplace and change leader with over 30 years' global experience in a variety of sectors. He's been blogging and writing about work and the workplace for over a decade and is a regular conference and webinar speaker. He's highly regarded for his willingness to critically challenge commonly held views and ideas while retaining perspective and humanity. He lives in London, UK.