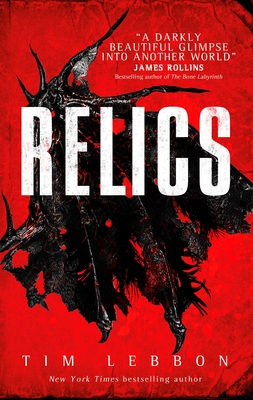 Relics (Paperback)
Titan Books, 9781785650307, 336pp.
Publication Date: March 21, 2017
Other Editions of This Title:
Mass Market (2/27/2018)
Compact Disc (1/29/2019)
Compact Disc (1/29/2019)
MP3 CD (1/29/2019)
* Individual store prices may vary.
Description
There's an underground black market for arcane things.  Akin to the trade in rhino horns or tigers' bones, this network traffics in remains of gryphons, faeries, goblins, and other fantastic creatures.
When her fiancé Vince goes missing Angela Gough, an American criminology student, discovers that he was a part of this secretive trade. It's a big-money business—shadowy, brutal, and sometimes fatal. As the trail leads her deeper into London's dark side, she crosses paths with a crime lord whose life is dedicated to collecting such relics.
Then Angela discovers that some of these objects aren't as ancient as they seem. Some of them are fresh.

Gripping supernatural terror launching a new trilogy by the acclaimed author of Coldbrook ("distinct, unique, and absorbing"), The Silence ("truly addictive"), and the Alien-Predator "Rage War.

"Tim Lebbon's RELICS opens a darkly beautiful glimpse into another world, one lurking in the shadows, hovering at the corner of the eye. If Anne Rice and Clive Barker had written a story together, it might have looked something like this novel:  richly imagined, fantastical, yet grounded in the grit and reality of modern-day London. I look forward to the wonders and terrors yet to come."--JAMES ROLLINS, New York Times bestselling author of The Bone Labyrinth

"A magical, perilous drama full of characters who live and breathe, darkness you can feel..."--Christopher Golden, New York Times bestselling author of Ararat

"Tim Lebbon is an immense talent."--Joe R. Lansdale, creator of Hap and Leonard
About the Author
Tim Lebbon is the New York Times bestselling author of the movie novelizations of 30 Days of Night and The Cabin in the Woods. He has also written many critically acclaimed horror and dark fantasy novels. Tim has won three British Fantasy Awards, a Bram Stoker Award, a Shocker, a Tombstone and been a finalist for the International Horror Guild and World Fantasy Awards.
Praise For Relics…
"Tim Lebbon's RELICS opens a darkly beautiful glimpse into another world, one lurking in the shadows, hovering at the corner of the eye. If Anne Rice and Clive Barker had written a story together, it might have looked something like this novel:  richly imagined, fantastical, yet grounded in the grit and reality of modern-day London. I look forward to the wonders and terrors yet to come."
—James Rollins, New York Times bestseller of The Bone Labyrinth


"The first literary hit of the new year has been born."  "Breathtaking"

"In Relics, Tim Lebbon has created yet another wonderful world for readers to lose themselves in, one which will likely remind them of both Neil Gaiman and Clive Barker, yet speeding them along with the thrilling pace of James Rollins or John Connelly. Lebbon's writing, as always, seduces the reader, inviting them into his imagination, while they find themselves immersed in the fantastic, horrific roller-coaster ride which ends too soon. Thankfully, Relics will have two sequels to complete the journey. Highly recommended. If you weren't a fan of Tim Lebbon before, this will likely be the novel to change your mind. - Cemetary Dance Magazine 

"Relics puts all of his storytelling skills to use...bright, flashy, and determined, with a breakneck ending that almost guarantees this isn't the last time we'll venture beneath the suburbs of London." Barnes & Noble Sci-Fi blog review

"fans of Lebbon will want to pick this one up." - Booklist
 The Grim Reader
 "I strongly feel that 'Relics' is destined to become one of my favourite reads of 2017."  


 "you're in for a treat here" Sciencefiction.com 

"a no-holds-barred feast of dark urban fantasy fiction for adult readers"  Rising Shadow