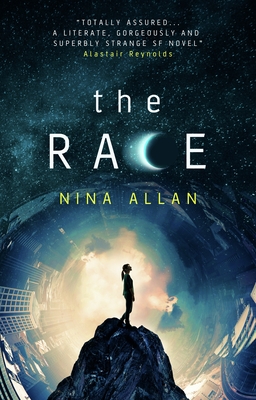 The Race (Paperback)
Titan Books, 9781785650369, 400pp.
Publication Date: July 19, 2016
Other Editions of This Title:
Mass Market (6/27/2017)
Paperback (8/15/2014)
* Individual store prices may vary.
Description
A child is kidnapped with consequences that extend across worlds… A writer reaches into the past to discover the truth about a possible murder… Far away a young woman prepares for her mysterious future…

In a future scarred by fracking and ecological collapse, Jenna Hoolman's world is dominated by illegal smartdog racing: greyhounds genetically modified with human DNA. When her young niece goes missing that world implodes... Christy's life is dominated by fear of her brother, a man she knows capable of monstrous acts and suspects of hiding even darker ones. Desperate to learn the truth she contacts Alex, who has his own demons to fight… And Maree, a young woman undertaking a journey that will change her world forever.
About the Author
Nina Allan has won the BSFA Award for Short Fiction, the prestigious Grand Prix de l'Imaginaire, and the Aeon Award. She has been shortlisted for the British Fantasy Award four times and was a finalist for the 2014 Shirley Jackson Award. The Race is her first novel.
Praise For The Race…
"The Race is a fantastic read that will keep you interested until the very last page. The narrative has been ingeniously crafted while having enough twists and turns to keep you guessing." - Bio Gamer Girl 

 "Quality writing and original ideas" - ScienceFiction.com
 
"A beautiful novel... gorgeous and thought provoking." - Gamers Sphere

"Enticingly mysterious... akin to the best alternative history fiction... will keep readers fascinated for hours." Publishers Weekly Starred Review 

"a brilliantly weird world that's utterly riveting" - Kirkus Reviews

"Evocative, descriptive and emotionally resonant" - Skiffy and Fanty

 "The story of four damaged people whose lives are inextricably linked, The Race is a novel of tender nuances, brutality, insight and great ambition." - Tor.com 

"The Race" is an ingenious puzzle-box of a narrative that works both as a haunting family saga and as a vivid picture of a future worth avoiding." - Chicago Tribune 

"A unique and fascinating near-future ecological SF novel. Buy it!" Jeff Vandermeer, author of the Annihilation trilogy

"Totally assured – this is a literate, intelligent, gorgeously human and superbly strange SF novel that will continually skewer your assumptions." – ALASTAIR REYNOLDS

"Nina Allan's debut is weird in all the right ways" - Barnes & Noble 

"confidently and wonderfully written" - Adventures in Poor Taste 

"An unconventional, arresting meditation on memory, imagination, and the ways we attempt to cope with the trauma in our lives." -  Barnes & Noble
or
Not Currently Available for Direct Purchase