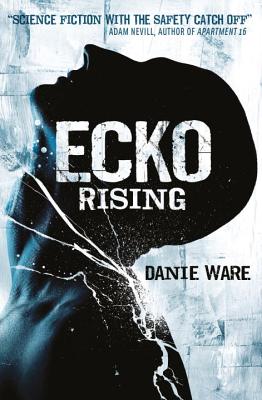 Ecko Rising
Mass Market

* Individual store prices may vary.
Other Editions of This Title:
Paperback (6/11/2013)
MP3 CD (6/14/2016)
Description
Ecko is an unlikely saviour: a savage, gleefully cynical rebel/assassin, he operates out of hi-tech London, making his own rules in a repressed and subdued society. When the biggest job of his life goes horribly wrong, Ecko awakes in a world he doesn't recognise: a world without tech, weapons, cams, cables – anything that makes sense to him. Can this be his own creation, a virtual Rorschach designed just for him, or is it something much more? Ecko finds himself immersed in a world just as troubled as his own, striving to conquer his deepest fears  and save it from extinction. 

If Ecko can win through, then he might just learn to care – 

or break the program and get home.
Praise For Ecko Rising…
With action aplenty, this sf/fantasy mash-up is a thrilling, genre-defying roller coaster ride." – Library Journal

As publicist and events manager for England's legendary Forbidden Planet, debut author Ware has a deep knowledge of science fiction and fantasy, and she hurls it all into this engrossing but sometimes derivative mix of high-tech street fighting and epic quest. In a dystopian future London, the population has been systematically reduced to plugged-in cogs, blissed out on Pilgrim Inc.'s brand of SSRI. Enter Ecko, a wickedly entertaining antihero. He's a genetically and mechanically modified superhuman sociopath with a host of unusual abilities. On a mission for a vaguely outlined rebellion, Ecko leaps from a building and wakes up in a teleporting tavern in a medieval fantasy realm, where he reluctantly joins forces with Roderick the Bard to do battle with the elementalist Maugrim and prevent the resuscitation of a demon. Is this all a "Virtual Rorschach" test designed by Ecko's creator to bring him into line? Several scenes in which Ecko is not present hint otherwise. The page-turning narrative leads to a cliffhanger ending that bodes well for planned sequels. (June) – Publishers Weekly 

"An incredible read, with completely unexpected twists and turns." – Geek Syndicate

"Ingenius...The story itself is engaging and totally unique, a plot that pushes the boundaries not for the sake of it but clearly to offer something different." – SF Book

"It s like The Matrix meets Game of Thrones, and it s immense fun... a novel that reads like the work of a seasoned professional but boasts a first timer's vigour." – Financial Times

"Dani Ware s debut novel is like no fantasy - or indeed sci-fi - epic you ve ever read before." – SFX Magazine

"An epic page turner with an ending that will leave your crying out for more." – The Tattooed Book

'An incredible debut' - SF Site

'Staggeringly impressive in both its richness and detail' - Alternative Magazine Online

'Ware writes with an eloquence that is not often encountered in genre fiction' - BFS

'An incredible, confident debut' - Dave Brendon's Weblog

"With fast and furious action and more than a smattering of sex, violence, gore and swearing this is the kind of novel where you hang onto your seat, and enjoy the ride." – High Fantasy Addict

"Danie Ware's Ecko Rising is distinctive and entertaining. Ecko is a creative and engaging anti-hero and his mashed-up cyberpunk and fantasy world holds the promise of an exciting new series." – Mind of the Geek

"Ecko Rising is truly the epitome of the expression, "a little something for everyone." It has science fiction roots, a fantasy trunk, some romance branches, and a sprinkling of humor leaves to round things out. After finishing the book, I'm still a little dumbfounded as to how Ware managed to create two worlds so vivid and so different, and put them in the same story." – Pop Culture Nexus

"There's nothing I love more than finding a book that pushes the boundaries, especially when it gives new meaning to the word "imagination", and Ecko Rising is one of those books." – Killer Aphrodite

"trust me, you're gonna want to grab a copy." – My Bookish Ways

"Ecko Rising is fast-paced, creative, and has enough going on to capture just about anyone's interest. This reader is on board for round two." – Paper Droids

"Ecko Rising is the debut novel of Danie Ware but reads more like that of a veteran storyteller with engaging characters and a polished storyline." – Dread Central

"Hollywood should take a look at this book, this would make a great sci-fi fantasy movie." – Retrenders

'Ecko is one of the most fascinating characters in scifi literature' - Wear Pink Wednesdays

"The sci-fi debut of the year begins like a cyberpunk thriller, before performing a sharp U-turn to become a rollicking high-fantasy adventure. Ware writes fearlessly and with great self-assurance, and her hero Ecko, cybernetically augmented but as crude and cynical as they come, is a magnificent creation." – Financial Times (London)

"If you're looking for some great genre-bending reading, I can't recommend Ecko Rising by Danie Ware enough. It seamlessly blends traditional cyberpunk story elements with elements of fantasy and leaves you wanting more!" – Blogcritics


"ECKO RISING is a definite win for me and I highly recommend giving it a look." "ECKO
RISING is written very well and flows like a roaring river. Ware has a subtle writing
style that lulls the reader into a false sense of security but then whips them straight
into the story without warning. This allows for complete immersion into Ecko's
world(s) and therefore an enjoyable reading experience." – Shattered Ravings 


Titan Books, 9781785650819, 528pp.
Publication Date: April 26, 2016
About the Author
Danie Ware is the publicist and event organiser for cult entertainment retailer Forbidden Planet. She has worked closely with a wide-range of genre authors and has been immersed in the science-fiction and fantasy community for the past decade. An early adopter of blogging, social media and a familiar face at conventions, she appears on panels as an expert on genre marketing and retailing.
or
Not Currently Available for Direct Purchase