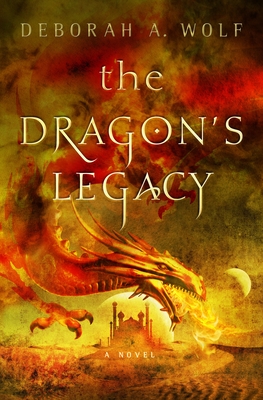 The Dragon's Legacy
Paperback

* Individual store prices may vary.
Other Editions of This Title:
Digital Audiobook (4/8/2019)
Compact Disc (4/9/2019)
Hardcover (4/18/2017)
MP3 CD (4/9/2019)
Compact Disc (4/9/2019)
Description
Epic fantasy in the tradition of Guy Gavriel Kay and Jacqueline Carey. "A world of large-scale epic fantasy... This is a rare find and not to be missed." New York Times bestselling author Barb Hendee.

In the heart of the singing desert, the people are fading from the world. Mothers bear few live children, the warriors and wardens are hard-pressed to protect those who remain, and the vash'ai—the great cats who have called the people kithren for as long as there have been stories—bond with fewer humans each year. High above, the Sun Dragon sings a song of life and love while far below, the Earth Dragon slumbers as she has since the beginning of time. Her sleep is fitful, and from the darkness of her dreams come whispers of war… and death.
 
Sulema is a newly minted warrior of the people and a true Ja'Akari—a daughter of the unforgiving desert. When a mysterious young man appears in her home of Aish Kalumm, she learns that the Dragon King is dying in distant Atualon. As the king fades, so does the magic that sings the Earth Dragon to sleep.



There are those who wish to keep the dragon trapped in endless slumber. Others would tap her power to claim it for their own. And there are those who would have her wake, so they might laugh as the world burns.
Praise For The Dragon's Legacy…
"A well-crafted, intricate blend of the politics and magic of multiple cultures." - Publishers Weekly

"Wolf's The Dragon's Legacy is a welcome, desert-scented breath of fresh air, worth devouring, again and again." - FORWORD REVIEW   

Titan Books, 9781785651083, 400pp.
Publication Date: March 13, 2018
About the Author
Deborah A. Wolf has some personal knowledge of life as a barbarian warrior, having grown up in a wildlife refuge in Alaska. She later worked as an Arabic linguist for the U.S. Army. Before Wolf's formative years in Alaska, she spent some of her early years on a deserted island. Wolf has a love of different cultures where she can use those settings to create giant monsters, as well as flora and fauna. Deborah currently lives in northern Michigan.