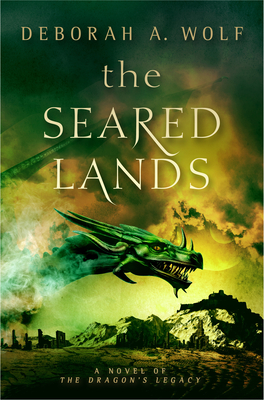 The Seared Lands (The Dragon's Legacy #3)
Paperback

* Individual store prices may vary.
Description
The concluding novel in the Dragon's Legacy trilogy as the world descends into war and the conflicts may awaken the Earth Dragon--leading to total destruction.

Sulema Ja'Akari, heir to the throne of the Dragon King, lies near death, imprisoned by her half brother Pythos. To survive, she must agree to rescue the one person who holds the key to unseating the usurper--a quest that will take Sulema across the vast, apocalyptic desert of the Seared Lands.

Overwhelmed by the responsibility, Sulema seeks to flee, but is captured and cast into the arena. There she must fight to the death against Kishah, whose very name means "vengeance." Kishah, who is Sulama's closest friend and fellow warrior, Hannei.

Across the world, vast forces gather. Fleeing a swarm of invaders, the child queen Maika seeks to lead her people across the wasteland to safety. Jian the half-breed prince musters an army from the Twilight Lands, while Ismai the Lich King gathers an undead horde, determined to reclaim the Dragon crown.

Yet the greatest threat lies below. Sajani the earth dragon stirs. If she wakes, the world will be destroyed. Only the heir to the Dragon King may sing Sajani back to sleep... if there still is time.
Praise For The Seared Lands (The Dragon's Legacy #3)…
Praise for the DRAGON'S LEGACY Saga

"You have to surrender to the domination of the author, and trust that she isn't just freewheeling. Otherwise you lose that precious sense of depth, which J.R.R. Tolkien, J.K. Rowling and George R.R. Martin were all able to sustain over multiple books... Ms. Wolf [is] off to a good start."—The Wall Street Journal

"An intricate story... This book will leave readers with intense curiosity about its different cultures and anxiously awaiting a sequel."—Booklist

"A well-crafted, intricate blend of the politics and magic of multiple cultures."—Publishers Weekly

"A powerful, compelling read that combines elements of epic fantasy with strong storytelling. Reminiscent of the classic fantasy novel Dune, The Dragon's Legacy is an addictive start to a promising, exciting trilogy....a welcome, desert-scented breath of fresh air, worth devouring, again and again."—Foreword Reviews
 
"Wolf's debut is ambitious… There are intriguing world building and poignant moments to be found here... Wolf writes for a big screen…"—Kirkus Reviews

"Wolf's style of storytelling, more nomadic and episodic like the world and people she has created, may be initially challenging for some readers, but the tale's mysteries, the world's grandeur, and vivid, strong characters will reward those who persevere. Fantasy fans who crave stories that eschew traditional gender roles, as well as those who find Celtic-analog cultures wearisome, will be pleased with this intriguing new offering."—New York Journal of Books

"True epic fantasy, the kind of rich, multi-layered works that don't just carry you away, but carry you away to a world that you'll want to live in for a long, long time!"—David Farland, New York Times bestselling author of The Runelords

"Plunges you into a rich and vibrant world, filled with magic and intrigue.  A fantastic combination of new, marvelous cultures and grand characters in a story that grips your imagination and pulls you into the windswept desert."—Sarah Beth Durst, award-winning author of The Queen of Blood.

"A mesmerizing tale of intrigue and magic that is as richly detailed as it is lethally entertaining."—Tina Lecount Myers, author of The Song of All 

"This will knock your socks off.  Wolf is rewriting epic fantasy."—Sarah Chorn, Bookworm Blues 

"Beautiful and haunting.  A world of large-scale eipic fantasy, in the tradition of Guy Gavriel Kay... This is a rare find and not to be missed."—Barb Hendee, New York Times bestselling author of The Noble Dead

"Wolf's lush and painterly prose is reminiscent of Jacqueline Carey, impelling the reader to savor every sight and sound and smell.  Highly recommended."—Katherine Kurtz, acclaimed author of the Deryni novels

"Wolf's debut fantasy is remarkably assured and deeply detailed, offering a unique universe and a trope-twisting narrative that plays out in unexpected ways."—Barnes & Noble SFF blog
Titan Books, 9781785651144, 560pp.
Publication Date: March 18, 2020
About the Author
Deborah A. Wolf has some personal knowledge of life as a barbarian warrior, having grown up in a wildlife refuge in Alaska. She later worked as an Arabic linguist for the U.S. Army. Before Wolf's formative years in Alaska, she spent some of her early years on a deserted island. Wolf has a love of different cultures where she can use those settings to create giant monsters, as well as flora and fauna. Deborah currently lives in northern Michigan.