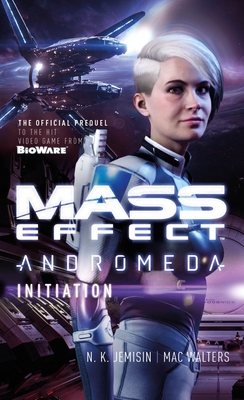 Mass Effect
Initiation
Mass Market

* Individual store prices may vary.
Description
An original novel written by Hugo Award-winning author N. K. Jemisin and Mass Effect creative director Mac Walters

Lieutenant Cora Harper joined the Systems Alliance to develop and enhance her powerful biotic talents. She was assigned to the asari commando unit Talein's Daughters, where she honed her abilities to become a skilled and deadly huntress.

Returning to Earth, Cora finds herself a stranger among other humans, and joins the Andromeda Initiative as Alec Ryder's second-in-command. The mission will send 100,000 colonists on a one-way, 600-year-long journey into the unknown. When essential—and dangerous—tech is stolen, Cora is assigned to recover it before it can be used against the Initiative, and end the mission before it can begin.
Praise For Mass Effect: Initiation…
"You need not be a fan of the games to appreciate the skill Jemisin brings to this fun, fast-moving sci-fi tale. (Though she's a big fan of the games, and you can totally tell)"

"I can tell how much fun the writers were having with this thing: ranging across the galaxy, upending dastardly plots, engaging in shoot outs, snapping on the gear and letting 'er rip. Mass Effect: Andromeda—Initiation is a blast, for more than one meaning of the word."

-  Barnes & Noble SFF blog

"a brisk, bracing romp involving artificial intelligence, unethical scientific research, espionage, and violent shenanigans...an absolute blast"  - Tor.com

"I loved the exciting and intense action, which kept the book's pacing rapid and engaging. At the same time, we got a level of character exploration not typically seen in a lot of media tie-in novels" - Biblio Sanctum
Titan Books, 9781785651601, 336pp.
Publication Date: November 28, 2017
About the Author
N.K. Jemisin is the author of The Inheritance Trilogy, as well as numerous fantasy, horror and science-fiction short stories and novellas. Her work has been nominated for the Hugo (twice), the Nebula (four times), and the World Fantasy Award (twice); shortlisted for the Crawford, the Gemmell Morningstar, and the Tiptree; and she has won a Locus Award for Best First Novel as well as the Romantic Times Reviewer's Choice Award (three times).