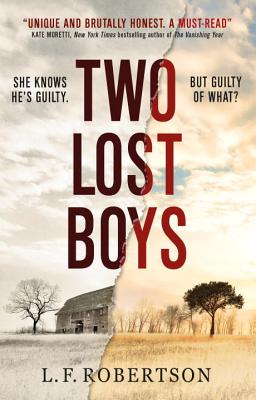 Two Lost Boys
Mass Market

* Individual store prices may vary.
Other Editions of This Title:
Paperback (5/16/2017)
Description

Janet Moodie has spent years as a death row appeals attorney. Overworked and recently widowed, she's had her fill of hopeless cases, and is determined that this will be her last. Her client is Marion 'Andy' Hardy, convicted along with his brother Emory of the rape and murder of two women. But Emory received a life sentence while Andy got the death penalty, labeled the ringleader despite his low IQ and Emory's dominant personality.


Convinced that Andy's previous lawyers missed mitigating evidence that would have kept him off death row, Janet investigates Andy's past. She discovers a sordid and damaged upbringing, a series of errors on the part of his previous counsel, and most worrying of all, the possibility that there is far more to the murders than was first thought. Andy may be guilty, but does he deserve to die?
Praise For Two Lost Boys…
"The author's work as a defense attorney handling death penalty cases brings authenticity to an exciting debut that focuses on providing grist for the slow-moving wheels of the criminal justice system." - Kirkus Reviews

"a fine job basing a legal thriller on the process of trying to mitigate a death sentence." - Publishers Weekly

"Debut novelist Robertson brings new meaning to the term legal thriller and introduces readers to a heroine who is both savvy and mature." - Library Journal

"Readers of legal thrillers will appreciate the detail the author includes about the criminal-justice system. Robertson is a practicing defense attorney with two decades of experience in death-penalty appeals, and she brings that expertise to the insider's take on the legal thriller." - Booklist 

"A unique, one-of-a-kind insider's look at the realities of appellate law, set against the fraught backdrop of a death penalty case. Carefully written and brutally honest, TWO LOST BOYS tackles both mental fitness and the rule of law with equal aplomb. Andy Hardy is an anti-hero that you both root for and empathize with, despite his seemingly abhorrent crimes. A must-read!"
Kate Moretti, New York Times bestselling author of The Vanishing Year


"From cell blocks to courtrooms, Two Lost Boys takes you on an exciting journey into the fascinating world of the guilty and the innocent. Can death row attorney Janet Moodie save her latest client from execution? This tale of family secrets and legal malpractice will grip you at every surprising turn. Suspense at its finest!"
Gayle Lynds, New York Times bestselling author of The Assassins


"Told with a commanding sense of authenticity, this grips from the first page."
Andrew Cartmel, author of The Vinyl Detective


"A revelation - a timely and fascinating journey into a complex and troubling case of murder, betrayal and family secrets.  A must-read for any reader interested in the moral issues surrounding the death penalty.  You are sure to find yourself happily lost in its pages."
Carole Buggé, author of Who Killed Mona Lisa?


"Robertson delves into the world of the unsung heroes of the criminal bar: The lawyers who take the appeals of the death row defendants. Part cold case mystery, part legal thriller. Both the lawyer and the writer in me were pleased."
Alan Gordon, public defender and author of the Fools' Guild Mysteries


"Scott Turow and John Grisham had better look to their laurels. There's a new writer of legal thrillers in town, and her debut novel, Two Lost Boys, is going to win her a seat at the table."
Richard A. Lupoff, author of the Lindsey and Plum mystery series

"one of the best books I have read recently – a very impressive debut novel.  If you like legal thrillers, you'll definitely want to read it." - TheSoapBoxers

"After the thirty percent mark, the book had its fangs buried in my brain stem and I couldn't get it out of my mind."  - Dangerous Dan's Book Blog

"an intensely real, immersive story that feels polished and authentic in a way that many more experienced storytellers never achieve." The Crime Review

"explores compelling themes"  Reviewing The Evidence

"extremely real and detailed" clues and reviews
Titan Books, 9781785652820
Publication Date: March 27, 2018
About the Author
L.F. Robertson is a practising defense attorney who for the last two decades has handled only death penalty appeals. Linda is the co-author of The Complete Idiots Guide to Unsolved Mysteries, and a contributor to the forensic handbooks How to Try a Murder and Irrefutable Evidence. She has had short stories published in the anthologies My Sherlock Holmes, Sherlock Holmes: the Hidden Years and Sherlock Holmes: The American Years.
or
Not Currently Available for Direct Purchase