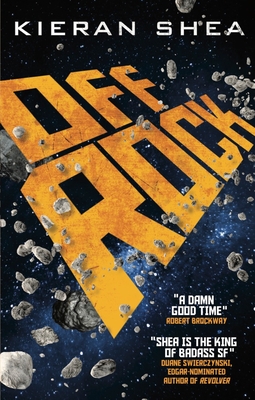 Off Rock
Mass Market

* Individual store prices may vary.
Other Editions of This Title:
Paperback (4/18/2017)
Description
"Five awesome and entertaining words to describe this one: 'Bank heist set in space.' Yes, please" -  io9



In the year 2778, Jimmy Vik is feeling dissatisfied. 
After busting his ass for assorted interstellar mining outfits for close to two decades, downsizing is in the wind, his ex-girlfriend/supervisor is climbing up his back, and daily Jimmy wonders if he's played his last good hand. 
So when Jimmy stumbles upon a significant gold pocket during a routine procedure on Kardashev 7-A, he believes his luck may have changed—larcenously so. But smuggling the gold "off rock" won't be easy.
To do it, Jimmy will have to contend with a wily criminal partner, a gorgeous covert assassin, the suspicions of his ex, and the less than honorable intentions of an encroaching, rival mining company. As the clock ticks down, treachery and betrayal loom, the body count rises, and soon Jimmy has no idea who to trust.
Praise For Off Rock…
"Five awesome and entertaining words to describe this one: 'Bank heist set in space.' Yes, please" -  io9

"fast-paced, high-energy story, which has all of the elements one would expect in a futuristic heist caper...."A great tale that is part space thriller and part classic gold heist." - Booklist 

"Off Rock is a space heist story you'll dig." - Do Some Damage 

"While Off Rock lives up to its billing as a page-turning, escapist heist tale set in outer space (who wouldn't pick up that book?), this novel becomes much more than a fun romp due to the depth of humanity Shea instills in his characters...Shea digs deeper than most authors of "escapist" literature are willing to go...to comment on the very human need to break free from an unsatisfactory life." - Tethered by Letters

"the final third races along to an explosive conclusion. I burned through it in an afternoon, and the twists at end were brilliant." - Beauty in Ruins

"If you're after a plot-oriented, quick-moving caper, Off-Rock is as good as gold."  B&N SFF blog

"fast-paced and funny" - Black Gate

'Off Rock' is a fast read. Like one day at the beach fast, or one flight with no layovers. The story zips along with little in the way of complication." NPR

 "balls-to-the-wall action and hilarity."  Nerdspan

"some great sci-fi escapism" Heradas

"one hell of a good, pulpy and deliciously quirky science fiction novel for adults, because it's pure escapism from start to finish."  RisingShadow.net

"guaranteed entertainment" Book Devil
Titan Books, 9781785653735, 336pp.
Publication Date: March 27, 2018
About the Author
Kieran Shea is the author of the Koko series of science-fiction adventures: Koko Takes a Holiday and Koko the Mighty. He has been nominated for the Story South's Million Writers Award twice. Follow him on Twitter @BlackIrishBlarn
or
Not Currently Available for Direct Purchase