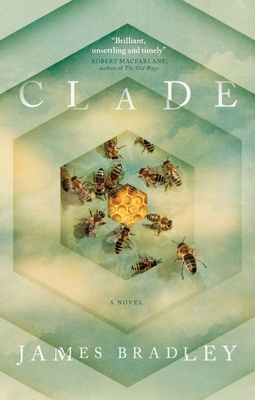 Clade (Paperback)
Titan Books, 9781785654145, 320pp.
Publication Date: September 5, 2017
Other Editions of This Title:
Compact Disc (3/5/2019)
MP3 CD (7/4/2017)
* Individual store prices may vary.
Description
On a beach in Antarctica, scientist Adam Leith marks the passage of the summer solstice. Back in Sydney his partner Ellie waits for the results of her latest round of IVF treatment. 
That result, when it comes, will change both their lives and propel them into a future neither could have predicted. In a collapsing England, Adam will battle to survive an apocalyptic storm. Against a backdrop of growing civil unrest at home, Ellie will discover a strange affinity with beekeeping. In the aftermath of a pandemic, a young man finds solace in building virtual recreations of the dead. And new connections will be formed from the most unlikely beginnings.
About the Author
James Bradley is a novelist and critic. His books include the novels Wrack, The Deep Field, The Resurrectionist and most recently Clade, a book of poetry, Paper Nautilus and The Penguin Book of the Ocean. The Resurrectionist, a literary gothic horror, became a bestseller after being recommended by the Richard and Judy Book Club. He lives in Sydney, Australia.
Praise For Clade…
"Moving and nuanced characterizations distinguish this subtle look at an Earth suffering the consequences of climate collapse."   —Publishers Weekly Starred Review

"Bleak and hopeful in equal measure, Clade is a striking paradox of a book—a soothing tale of the coming apocalypse."  —BookPage

"Bradley moves quickly through the lives of his protagonists, sketching their stories during key moments in the unfolding narrative. But the real story here is the all-too-realistic vision of an ecosystem in the throes of collapse,portrayed in stunning, sobering detail."  —Booklist

"a stunningly beautiful novel, characterized as much by lyricism as pointed critique of how humans are stewarding the planet."  —Chicago Review of Books

"Novels like Clade provide the lens we need to see our way forward." —Locus

"entertaining, insightful, and all around a great book"  —Gamers Sphere

"makes the devastation of global warming intensely personal" Book Riot

Barnes & Noble SFF blog:

"haunting, strangely optimistic" 

"Bradley's ability to find poetry amid brutal circumstances, his focus on the undeniably human problems of his cast, and a hopeful message of survival make Clade a melancholic celebration of humanity, not an elegy"

"Bradley's novel is absorbing and depressing, as it is thoughtful and fascinating" 

"Clade is possibly the most beautiful, optimistic end of the world novel ever written...equal parts beautiful, melancholy, and a little bit hopeful."


"a cli-fi masterpiece"  BookRiot