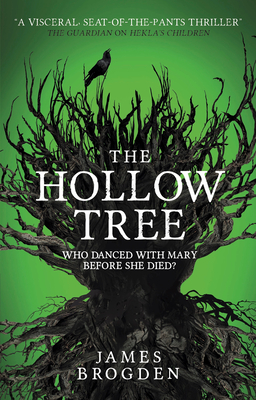 The Hollow Tree (Paperback)
Titan Books, 9781785654404
Publication Date: March 13, 2018
* Individual store prices may vary.
Description
From the critically acclaimed author of Hekla's Children comes a dark and haunting tale of our world and the next.

After her hand is amputated following a tragic accident, Rachel Cooper suffers vivid nightmares of a woman imprisoned in the trunk of a hollow tree, screaming for help. When she begins to experience phantom sensations of leaves and earth with her missing limb, Rachel is terrified she is going mad... but then another hand takes hers, and the trapped woman is pulled into our world.

This woman has no idea who she is, but Rachel can't help but think of the mystery of Oak Mary, a female corpse found in a hollow tree, and who was never identified. Three urban legends have grown up around the case; was Mary a Nazi spy, a prostitute or a gypsy witch? Rachel is desperate to learn the truth, but darker forces are at work. For a rule has been broken, and Mary is in a world where she doesn't belong...
About the Author
James Brogden is the author of The Narrows, Tourmaline and The Realt. His horror and fantasy stories have appeared in anthologies and periodicals ranging from The Big Issue to the British Fantasy Society Award-winning Alchemy Press. He spent many years living in Australia, but now lives in Bromsgrove, Worcestershire with his wife and two daughters.
Praise For The Hollow Tree…
"Brogden blends sinister undertones into an action-packed, supernatural thriller
filled with heart. ...Give this novel to fans of Dean Koontz, Keith Donohue's The Stolen Child, or intense, speculative stories with strong characters and plenty of intrigue." - Booklist

" The mechanics of Brogden's dual worlds are carefully crafted, and the mystery is wrapped in rich folklore and urban myth...This elegant horror story has deep psychological and emotional roots."  -Publishers Weekly


"Brogden has created another highly satisfying novel here, one that feels both familiar and original....His writing style lends itself to a fast read, the nearly 500 pages a blur with a thriller's pace that eschews the descriptive traps of traditional fantasy. This novel should be considered as one of the highlights of the year, for both horror and fantasy lovers." -- Cemetery Dance Magazine
"couldn't put this book down" - Kati's Bookaholic Rambling Reviews

"If you are a fan of urban fantasy or enjoy a well-crafted mystery, go read this book!" - Project Fandom

"a fresh and utterly compelling novel that should be on every horror fan's reading list. If you love dark and well written stories, you won't be disappointed by this novel" - Risingshadow.net

"the reader can never quite see around the curve as to what is coming next. With tight pacing and strong ending, it's one of the best horror/fantasy novels I've read this year." - Adventures in Poor Taste

"The notion that folklore—the forms of expressive culture that all of us engage in every single day—actually has supernatural potential is an intriguing one, and Brogden uses it to good effect."  Horrortalk.com

"An enjoyable read to add to your list." - Tulsa Book Review 

 "Brogden has created something truly vast and impressive out of Bella in the Wych Elm urban legend" BiblioSanctum