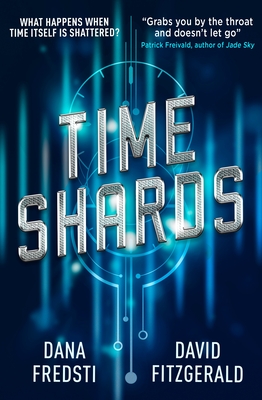 Time Shards (Paperback)
Titan Books, 9781785654527, 448pp.
Publication Date: January 30, 2018
* Individual store prices may vary.
Description

IT'S CALLED "THE EVENT," AN UNIMAGINABLE CATACLYSM THAT SHATTERS 600 MILLION YEARS OF THE EARTH'S TIMELINE.
 
Our world is gone, instantly replaced by a new one made of scattered remnants of the past, present, and future, dropped alongside one another in a patchwork of "shards". Monsters from Jurassic prehistory, ancient armies, and high-tech robots all coexist in this deadly post-apocalyptic landscape.
 
A desperate group of survivors sets out to locate the source of the disaster. They include 21st century Californian Amber Richardson, Cam, a young Celtic warrior from Roman Britannia, Alex Brice, a policewoman from 1985, and Blake, a British soldier from World War II. With other refugees from across time, they must learn the truth behind the Event, if they are to survive.



About the Author
Dana Fredsti is the author of the PLAGUE TOWN trilogy, and an actress with a background in theatrical sword fighting whose screen credits include the cult classic Army of Darkness. She has been a producer, director, and screenplay writer for stage and film.

David Fitzgerald is an award-winning fiction and non-fiction author and editor. His works include Nailed, The Complete Heretic's Guide to Western Religion, Under the Kilt, and Demon Lovers (co-edited with Dana Fredsti).
Praise For Time Shards…
"really quite excited to see where this goes next" - Frumious Consortium

"I didn't even get halfway through this book before I started telling my friends they need to read it." Erlebnisse

"Dana Fredsti and David Fitzgerald blend together horror, science fiction, and a dystopian perspective for a riveting adventure." - Seattle Book Review

"An absolute monster of a novel by two accomplished writers who are as comfortable demonstrating their considerable skill, as they are trampling across genre and messing with your expectations." - Mark Wilson, author of the dEaDINBURGH series and Lanarkshire Strays novels

"...quite frankly it is one of the best page turning novels I have had the pleasure to read in a long time..." - Lair of the Geek!

"...I was surprised at how quickly I got into it and I really enjoyed it. I went through a lot of emotions, and some of my colleagues were laughing at me for the horror on my face at one point." -Abi's Book Reviews

"Time Shards is the fast-paced kind of rip-roaring sf adventure Doctor Who fans will love....I will buy the next book because I love the characters and care about what happens next." - Paul Dale Anderson, author of Abandoned, Wind, and Darkness

"Oh. My. Goodness!  Fan-freakin-tastic!...5 of 5 stars, and A+" - My Book Abyss

 "…if you are looking for an action filled story that will have you gripped to the ever end, then look no further because Time Shards has everything you need...an epic story that will leave you on the edge of your seat." - Mike Reads