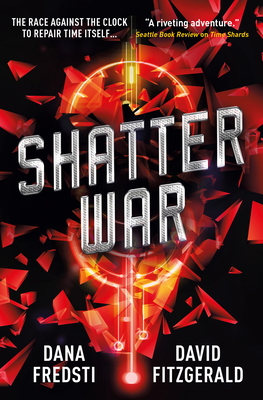 Shatter War
A Time Shards Novel
Paperback

* Individual store prices may vary.
Description
Time shatters into shards of the past, present, and future. A group of survivors dodge threats from across history to locate the source and repair the damage before it's too late.

WAR ACROSS THE TIMESCAPE

Earth's past, present, and future have shattered in "the Event," yielding a terrifying new world of prehistoric monsters, lost cultures, strange technologies, and displaced armies. Coming from different points throughout history, a desperate band of survivors join "Merlin," a mysterious figure who may be their only hope to save the world--if he can be trusted.

When their twenty-third-century ship the Vanuatu is sabotaged by an unknown enemy and thrown far off its course, the team must discover who is responsible, even as they are split apart and fight to survive in the war-torn Shard world...
Titan Books, 9781785654541, 336pp.
Publication Date: September 24, 2019
About the Author
Dana Fredsti is the author of the Ashley Parker PLAGUE TOWN trilogy, as well as a frequent short fiction contributor and author (under pseudonym) of a number of erotic fantasy novels. She has been a producer, director, and screenplay writer for stage and film, and was the co-writer / associate producer on Urban Rescuers, which won Best Documentary at the 2003 Valley Film Festival in Los Angeles.
or
Not Currently Available for Direct Purchase