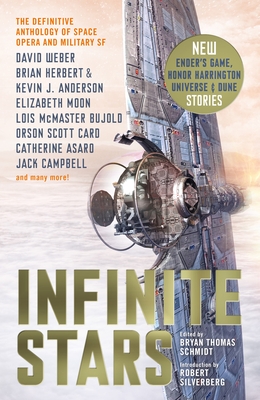 Infinite Stars (Paperback)
Titan Books, 9781785654589, 400pp.
Publication Date: May 1, 2018
Other Editions of This Title:
Hardcover (10/17/2017)
* Individual store prices may vary.
Description
The one definitive anthology of space opera and military science fiction. Today's most popular writers produce all-new stories set in their most famous universes.

This is the definitive collection of original short stories by many of today's finest authors, writing brand new adventures set in their most famous series. Herein lie canonical tales of the Honorverse, the Lost Fleet, Dune, Vatta's War, Ender Wiggin, the Legion of the Damned, the Imperium, and more.

Also included are past masterpieces by authors whose works defined the genre. Nebula and Hugo Award winners, New York Times bestsellers, and Science Fiction Grand Masters--these authors take us to the farthest regions of space.

The modern masters of space opera and military science fiction, with 14 brand new stories set in their most famous universes--exclusive to this volume!

DAVID WEBER The Honor Harrington Saga
BRIAN HERBERT & KEVIN J. ANDERSON Dune
ELIZABETH MOON Vatta's War
ORSON SCOTT CARD Ender's Game
JACK CAMPBELL The Lost Fleet

...plus more new adventures by:
Catherine asard Dave Bara Bennett R. Coles William C. Dietz
Charles E. Gannon Jean Johnson Linda Nagata
Jody Lynn Nye Alastair Reynolds

And ten seminal stories by some of the most famous authors in the genre:
POUL ANDERSON LEIGH BRACKETT & EDMOND HAMILTON
LOIS McMASTER BUJOLD A. C. CRISPIN DAVID DRAKE ANNE McCAFFREY
LARRY NIVEN & JERRY POURNELLE NNEDI OKORAFOR
ROBERT SILVERBERG CORDWAINER SMITH

Truly this is a must-have collection for the SF reader.
About the Author
Bryan Thomas Schmidt is a Hugo Award-nominated editor and author. His anthologies include Shattered Shields, Mission: Tomorrow, Galactic Games, Little Green Men-Attack, and, Beyond The Sun. Bryan was the original editor for The Martian by New York Times Bestseller Andy Weir (Crown, 2014). He has also edited or written gaming content for Wars, Dark Expanse, and Ascension, as well as writing tie-in fiction in The X-Files and Predator.
Praise For Infinite Stars…
"Space opera is celebrated in this capacious anthology with stories from a stellar lineup of its best contemporary practitioners....irresistible to space opera enthusiasts." 
-Publishers Weekly Starred Review

"While the broad sampling means readers may not enjoy every tale, the wide variety on offer makes this volume worth a look for any sf reader, regardless of their particular genre tastes."
-Booklist Review

"Infinite Stars is a strong celebration of the variety and power of the space opera subgenre, both in its history and its ongoing vitality" - Locus magazine


"celebrates the breadth and scope—and storytelling power—of space opera" - Barnes & Noble SFF blog

"a once-in-a-lifetime collection" Unbound Worlds

"great sci-fi done right, an appetizer whetting the appetite for much larger entrees to follow." -- Seattle Book Review


"After reading this volume, even the most grounded reader will be able to see that space opera has blasted off from its formulaic and predictable pulpy roots to explore galaxies of carefully crafted prose, thematic depth, and character complexity. These stories beg the reader to question the very nature of reality and gaze in wonder at the universe, pondering the struggles and joys of humans who seek to find their place in it" -- Tethered by Letters

"A great anthology with a bit of something for everyone and some top notch writers to boot." - Portland Book Review