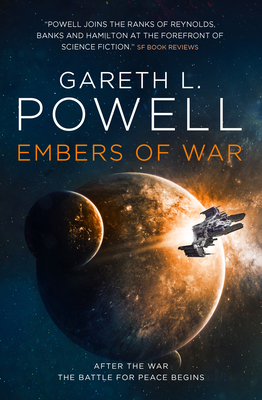 Embers of War
Mass Market

* Individual store prices may vary.
Other Editions of This Title:
Paperback (2/20/2018)
Compact Disc (6/19/2018)
MP3 CD (6/19/2018)
Compact Disc (6/19/2018)
Description
From BSFA Award winning author Gareth L. Powell comes the first in a new epic sci-fi trilogy exploring the legacies of war

The sentient warship Trouble Dog was built for violence, yet following a brutal war, she is disgusted by her role in a genocide. Stripped of her weaponry and seeking to atone, she joins the House of Reclamation, an organisation dedicated to rescuing ships in distress. When a civilian ship goes missing in a disputed system, Trouble Dog and her new crew of loners, captained by Sal Konstanz, are sent on a rescue mission.


Meanwhile, light years away, intelligence officer Ashton Childe is tasked with locating the poet, Ona Sudak, who was aboard the missing spaceship. What Childe doesn't know is that Sudak is not the person she appears to be. A straightforward rescue turns into something far more dangerous, as Trouble Dog, Konstanz and Childe find themselves at the centre of a conflict that could engulf the entire galaxy. If she is to save her crew, Trouble Dog is going to have to remember how to fight...
Praise For Embers of War…
"When you have an imagination like Gareth Powell's, you must write or paint or otherwise vent that imagination through art so your head won't explode." - New York Journal of Books

"A nice blend of hardware and humanity...with elements of today and a logically projected far future....leaves a group of enthralled readers hungry for more " - New York Journal of Books

"Really engrossing" - Transfer Orbit 

"Powell's writing is fast-paced and fun and full of adventure. He's on my must-read list." - Ann Leckie

"a book dominated by strong women, hairs-breadth escapes, interpersonal conflicts, and ultimately, the dogged determination of human beings, and others, to become better versions of themselves." -- Sci-Fi Magazine

"With a definite vibe from the Firefly television series, this first in a planned trilogy will appeal to fans of Leckie, Iain Banks, and Anne McCaffrey." -- Booklist

 "turns some of our favorite space opera tropes (including sentient starships) to eleven" - Barnes & Noble SFF blog

"A smart, funny, tragic, galloping space opera that showcases Powell's wit, affection for his characters, world-building skills and unpredictable narrative inventions... The chapters are taut and bite-sized, making for some propulsive reading. His prose, which wastes no words, is vivid and sharp, and at times grittily poetic...Full of all the gosh-wow ideation and thriller-style action that one could ask for. We get a full sense of galactic history and cultures, economies and polities...Fans of Neal Asher, Alistair Reynolds, and Michael Cobley will embrace Powell's book wholeheartedly. Its fresh spins on the grand space opera motifs, as well as its superior characterizations, prove there's life in the old Trouble Dog yet." - Locus Magazine

"an emotionally wrenching take on life in a war-torn far future... leading to an explosive finale with strong series potential." - Publishers Weekly

"Will appeal to military sf fans, especially those who seek a little mystery in space...If you enjoy James A. Corey or Vernor Vinge, you will want to read this." - Library Journal

"A fantastic space opera with tight prose, fast pacing, and unforgettable characters...The next book in this series cannot come fast enough. I'm in it for the long haul with this series. I highly recommend this book. It is not a book you want to miss." -- Looking Glass Reads

This is a true space opera, full of suspense, and mystery, and stuff blowing up real good—but it's the humanity of Powell's vision that truly makes it something special" Barnes & Noble SFF

"turns some of our favorite space opera tropes to eleven" Barnes & Noble SFF


"It's fast paced, it's intricate and it's complex." Erlebnisse

 "The writing is wonderfully descriptive, and I loved the concepts and definitely want to see where our ragtag group of heroes will go next" Frumious Consortium


 "If you have even a MILD love for Science Fiction Novels PLEASE, PLEASE, PLEASE pick this book up! - Fangirl Nation

"This action-packed, adventure has plenty of drama, suspense, and intrigue. With colorful characters and an unpredictable plot, I thoroughly enjoyed this start of a fun, new trilogy" SciFi Chick

"Practically zooms across space, pulling the reader along with it. This is an excellently paced adventure that swells with energy and force, upping the stakes at every turn of the page. " - BookPage

"a big book that hits all of the buttons that make space opera one of my favorite genres" - Tor.com

"Other Space Operas I've read this year have had the characters, the scale, the sensawunda, and the big dumb objects, but it is Embers of War that marries it with the best writing" - Skiffy & Fanty's Reviewer's Picks

"All in all, Embers of War was a great read that ticked off the boxes when it comes to what I look for in a military sci-fi or space opera" 4/5 Stars - The BiblioSanctum

"Powell finds the heart in each member of Trouble Dog's crew of loners and outcasts, not to mention the ship herself" - Barnes & Noble SFF Blog

"Embers of War is both an action-packed adventure and a hard-hitting commentary on how far people are willing to go to win and the affect it has on those who have to live with that decisions of those above them. It's a story of regret, atonement, and taking a stand against seemingly insurmountable odds for the good of others." Portland Book Review
Titan Books, 9781785655203, 448pp.
Publication Date: January 29, 2019
About the Author
Gareth is the author of five science-fiction novels and two short story collections. His third novel, Ack-Ack Macaque, book one in the Macaque Trilogy, was the winner of the 2013 BSFA novel award. He lives in Bristol, UK. Find him on Twitter @garethlpowell.
or
Not Currently Available for Direct Purchase