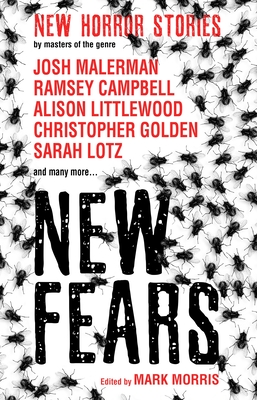 New Fears - New horror stories by masters of the genre (Paperback)
Titan Books, 9781785655524, 400pp.
Publication Date: September 19, 2017
* Individual store prices may vary.
Description
FEAR COMES IN MANY FORMS
The horror genre's greatest living practitioners drag our darkest fears kicking and screaming into the light in this collection of nineteen brand-new stories. In "The Boggle Hole" by Alison Littlewood an ancient folk tale leads to irrevocable loss. In Josh Malerman's "The House of the Head" a dollhouse becomes the focus for an incident both violent and inexplicable. And in "Speaking Still" Ramsey Campbell suggests that beyond death there may be far worse things waiting than we can ever imagine... Numinous, surreal and gut wrenching, New Fears is a vibrant collection showcasing the very best fiction modern horror has to offer.
About the Author
Mark Morris has written over twenty-five novels, including four books in the popular Doctor Who range. He is also the author of two short story collections and several novellas. His short fiction, articles and reviews have appeared in a wide variety of anthologies and magazines, and he is editor of Cinema Macabre, a book of horror movie essays for which he won the 2007 British Fantasy Award.
Praise For New Fears - New horror stories by masters of the genre…
"everything you want from a horror anthology...gives you just enough of each tale to make you turn on some extra lights without over-explaining the situations" - Adventures in Poor Taste

"showcases how good, effective and original modern horror fiction can be at its best" - Rising Shadow

"brilliantly written and well thought out...If short horror is your thing, New Horrors most definitely needs to make it's way into your hands right away" - Fangirl Nation

"an unusually powerful slate of stories that hopefully signal the start of a brand new trend in horror fiction" - Barnes & Noble SFF blog

"The popularity of shows like Black Mirror may be a sign that the world is indeed craving more collections of short-form fictions. If so, New Fears is well poised to be a leader of the trend." Portland Book Review  (5-star review)

"If you watch horror movies at all, it seems like everything has been done to death. Haunted dolls, monsters, strangers infiltrating your life….It's all been done before. And then you read a collection like New Fears, and you realize there are still plenty of untapped depths of spooks and scares awaiting you, if you know where to look." - San Francisco Book Review (4-star review)