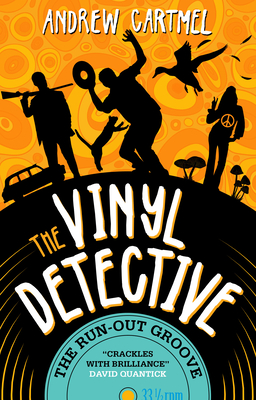 The Vinyl Detective - The Run-Out Groove (Mass Market)
Vinyl Detective
Titan Books, 9781785655982, 416pp.
Publication Date: March 26, 2019
Other Editions of This Title:
Paperback (5/9/2017)
* Individual store prices may vary.
Description
His first adventure consisted of the search for a rare record; his second begins with the discovery of one. When a mint copy of the final album by "Valerian"--England's great lost rock band of the 1960s--surfaces in a charity shop, all hell breaks loose.
Finding this record triggers a chain of events culminating in our hero learning the true fate of the singer Valerian, who died under equivocal circumstances just after--or was it just before?--the abduction of her two-year-old son.
Along the way, the Vinyl Detective finds himself marked for death, at the wrong end of a shotgun, and unknowingly dosed with LSD as a prelude to being burned alive. And then there's the grave robbing...
But he does find out what happened to the missing child, and it wasn't what anyone expected--or wanted--to hear.
About the Author
Andrew Cartmel is a novelist and screenwriter. His work for television includes Midsomer Murders and Torchwood, and a legendary stint as Script Editor on Doctor Who. He has also written plays for the London Fringe, toured as a stand-up comedian, and is currently co-writing with Ben Aaronovitch a series of comics based on the bestselling Rivers of London books. He lives in London.
Praise For The Vinyl Detective - The Run-Out Groove: Vinyl Detective…
"Vinyl Detective is proving to be a very amenable companion to have on a treasure hunt. This is one vinyl nerd you won't mind spending time with " - Kirkus Reviews

"Great premise, great fun. Keep 'em coming." Booklist

"Cartmel treats music and records seriously, plays his strange characters for laughs, and provides a bit of danger and some unexpected twists in this affectionate nod to the vagaries of rock stardom."
- Publishers Weekly

"There is just something so appealing, quirky and well, relatable about the cast of characters" - MyBigHonkinBlog

"a great piece of detective fiction with characters that feel authentic. I recommend it to fans of the first novel as well as fans of quirky detective stories." GeekHardshow.com
 
"Polished, fast-paced and a ton of fun, this is a fantastic read that is easy to get lost in."  The Crime Review


"Cartmel does a brilliant job of writing outlandish characters, that can be humorous and deadly, but not cliches or tropes" - Atomic Moo 

"The book hooks you fast for an intriguing ride that will only serve to whet your appetite for more books in this series." Mystery Scene

"Quite fun, especially if you appreciate older music forms and can sympathize with the feeling of finding just the right rare record hidden in a dusty corner." - Seattle Book Review